API
CSS-only Menus. Mosaic - Sliding Boxes and Captions jQuery Plugin. Totem: A Vertical Ticker jQuery Plugin. Features Totem makes vertical tickers easy to implement by: Turning a list of items into an animated ticker that auto-advancesSpecifying anchors for stop, start, next, and previous navigation links.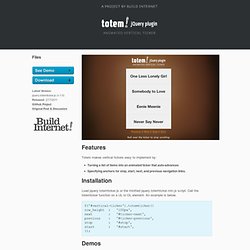 Installation. Grid Accordion. Grid Accordion combines the functionality of a grid gallery and an accordion slider, offering you an interesting method to display your portfolio.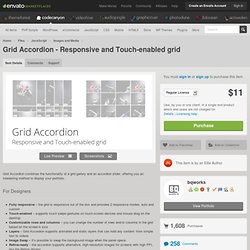 For Designers. CSS3 Grid Accordian using :target. Information Click any of the above 'thumbnail' images to expand them to full size.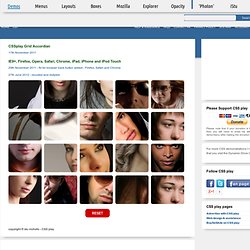 Once expanded then the large image will stay visible even if clicking elsewhere on the page. Click the 'RESET' button to return the grid to its initial position.
---