API
Mosaic - Sliding Boxes and Captions jQuery Plugin
Features Totem makes vertical tickers easy to implement by: Turning a list of items into an animated ticker that auto-advances Specifying anchors for stop, start, next, and previous navigation links. Installation
Totem: A Vertical Ticker jQuery Plugin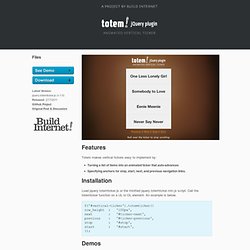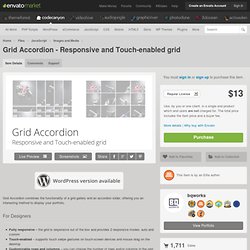 Grid Accordion
Grid Accordion combines the functionality of a thumbnail grid and an accordion panel, offering you an interesting method to display your portfolio. You have the option to use either XML or HTML . The powerful API will allow to further enhance the functionality of this jQuery plugin and make it possible to easily integrate it into your own application. Features supports XML and HTML easy to customize multiple Grid Accordions on the same page supports captions with simple text or HTML text you can add a link to each panel auto slideshow mode shuffled panels public methods which allow you to control the accordion using outside input (e.g. openPanel(3), nextPanel(), previousPanel(), getPanelAt(2) etc.) callback functions If you have any questions or need assistance integrating the accordion, please feel free to ask; I will gladly help you.
CSS3 Grid Accordian using :target
Information Click any of the above 'thumbnail' images to expand them to full size. Once expanded then the large image will stay visible even if clicking elsewhere on the page. Click the 'RESET' button to return the grid to its initial position.