Firms
Residential Design - GO Logic Architecture. Nestled on a south-facing, sloped site overlooking a bay in midcoast Maine, a 2,000 square-foot, two-story home makes the most of its small site and the stunning views surrounding it.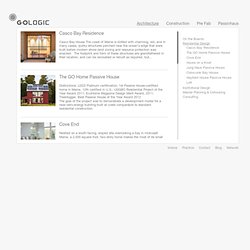 The simple and compact building form, reflecting the classic, restrained midcoast peaked roof vernacular surrounding it, combined with an energy-efficient shell, results in a house that is an exceptionally comfortable sanctuary in a rough-and-tumble coastal environment. Snohetta. Snøhetta shortlisted for the design of 10 new acres of parkland in San Francisco's Presidio The Presidio Trust, working with the Golden Gate National Parks Conservancy and the National Park Service, has invited five design firms to develop conceptual design and programming for 10 acres of new parkland that will be created in the Presidio atop a dramatic bluff with panoramic Golden Gate views.
The design opportunity came about as the result of the demolition of the 75-year-old freeway leading to the Golden Gate Bridge, which is being replaced by the Presidio Parkway, a new at-grade tunnel-covered roadway that will connect the two most expansive public spaces in the Presidio: the historic Main Post and the bay front at Crissy Field. UNStudio Amsterdam. Www.ssdarchitecture.com. Jobs.
---