Strategy
The Secret To Pinterest's Astounding Success: A Brilliant Sign-Up Process You Should Copy
[Mor Naaman is an assistant professor at the Rutgers School of Communication and Information, where his research focuses on social media. In particular, Mor aims at improving the ways in which we consume and create social media information, including multimedia. His home on the Web is mornaaman.com ; he blogs away from home at ayman-naaman.net ; and he just started tweeting publicly at @informor - encourage him with a hearty follow!
Social Media + Multimedia = Social MultimediaVideo Over Enterprise
How to Get Twitter Followers
inShare398
How To Use YouTube To Drive Business
Are your business bookmarks del.icio.us? | Express Marketing Memo
Use Microblogging to Increase Productivity - Jeanne C Meister and Karie Willyerd - The Conversation
by Jeanne C Meister and Karie Willyerd | 10:15 AM April 16, 2010
How to Use Social Bookmarking for Business
Much has changed in the world of social media since we first published our Superlist of Social Media Case Studies in 2008.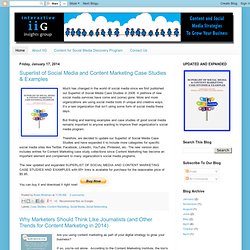 Social Media Metrics Superlist: Measurement, ROI, & Key Statistics Resources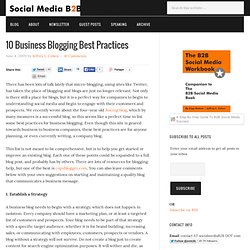 There has been lots of talk lately that micro-blogging, using sites like Twitter, has taken the place of blogging and blogs are just no longer relevant. Not only is there still a place for blogs, but it is a perfect way for companies to begin to understanding social media and begin to engage with their customers and prospects. We recently wrote about the four-year old Boeing blog, which by many measures is a successful blog, so this seems like a perfect time to list some best practices for business blogging.
10 Business Blogging Best Practices
slideshare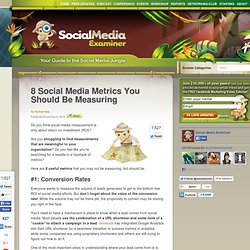 8 Social Media Metrics You Should Be Measuring
Do you think social media measurement is only about return on investment (ROI)? Are you struggling to find measurements that are meaningful to your organization? Do you feel like you're searching for a needle in a haystack of metrics? Here are 8 useful metrics that you may not be measuring, but should be.
Maria Ogneva is the Director of Social Media at Attensity, a social media engagement and voice-of-customer platform that helps the social enterprise serve and collaborate with the social customer. You can follow her on Twitter at @themaria or @attensity360, or find her musings on her personal blog and her company's blog. Whether you are actively developing a social media presence for your brand or just dipping your toe in the deep and ever-changing ocean of social media chatter, you probably realize that monitoring and measurement are quite important.
Why You Need to Monitor and Measure Your Brand on Social Media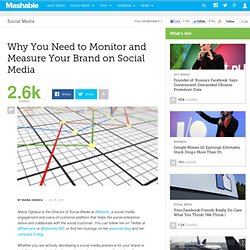 5 Objectives for Social Media Measurement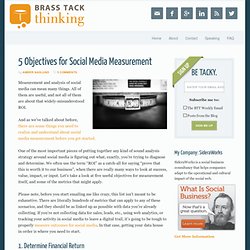 Measurement and analysis of social media can mean many things. All of them are useful, and not all of them are about that widely-misunderstood ROI. And as we've talked about before, there are some things you need to realize and understand about social media measurement before you get started.
How to Monitor Your Social Media Presence in 10 Minutes a Day
Monitoring your business' social media presence is incredibly important. You need to respond to people talking about your brand and understand how people view your company. However, a common concern is that it takes up too much time. The team at HubSpot spreads out the responsibilities, but it's entirely possible for one person to keep an eye on things. If you set up a solid routine, monitoring your online presence doesn't have to be a hassle at all. Here are five free, easy steps you can take to get things started.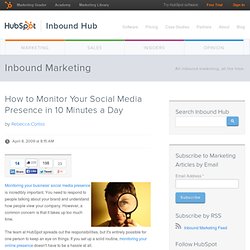 Answering the Social Phone
It seems that if there are many ways to listen in the social Web, there are also many reasons with the ways to answer.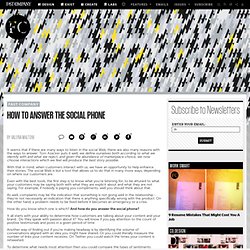 How to Answer the Social Phone
inShare62 What follows is the entire version of my recent post on Mashable, "The Maturation of Social Media ROI" Over the years, Social Media experts attempted to redefine ROI for a new era of influence.
ROI: How to Measure Return on Investment in Social Media Brian Solis
Social Media Time Management: Resource Allocation
This post is the second in a multi-part series on Social Media Time Management, intended to supplement the content of the presentation I gave at BlogWorld Expo 2009. Click here to see the collection of posts in the series. Organizations that are embarking on social media are going to be at different levels of maturity.
I think we can all agree by now that social media is here to stay. As such, the importance of formulating a social media strategy, executing on it, educating and aligning the whole organization, is paramount. This is why your social media manager / director is going to be a crucial hire.
12 Steps To Hiring A Social Media Manager
5 Tips for Finding Time for Social Media
One of the major objections I hear about social media is about time. Do any of these sound familiar?
Last week, I explored the birth of the "superfan" in social media, drawing from the superfan concept at sporting events and pointing out some fan qualities that my company has observed on our clients' Facebook Pages.
How to Convert Your Facebook Superfans Into Brand Ambassadors — Online Collaboration
How To Develop a Social Media Strategy: A Roadmap for Integration
Risk-takers and Strategists: Jeremiah Owyang on Long-Term Social Media Planning
Shut Up and Listen
16 top podcasts – social media, marketing and more | Social media agency London | FreshNetworks blog
6 Social Networking Faux Pas to Avoid
Best and Worst Practices Social Media Marketing - Online Marketing Blog
5 Social Media Best Practices for Business Brian Solis
Get Started with Social Media
Superlist of What NOT To Do In Social Media (UPDATED)
Social media and customer service – some examples | Social media agency London | FreshNetworks blog
How Does Social Media Aid Lead Generation?
HOW TO: Use Social Media for Lead Generation
Case study: Doubling sales through social media
Case study: Doubling sales through social media
Build Thought Leadership Through Social Networking | Blogging and Content Creation
Build Awareness and Increase Sales