Interesting Work Life Articles
by Amy Gallo | 12:20 PM June 19, 2012 Sometimes you know your job just isn't right for you. Maybe you're in the wrong field, don't enjoy the work, feel surrounded by untrustworthy coworkers, or have an incompetent boss . Most people would tell you to find something that's a better fit.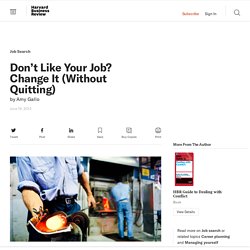 Don't Like Your Job? Change It (Without Quitting) - Amy Gallo - Best Practices
Like most creatives, you probably have a low boredom threshold. You're hardwired to pursue novelty and inspiration, and to run from admin and drudgery. Boredom is the enemy of creativity, to be avoided at all costs. Or is it? Consider these remarks by comedy writer Graham Linehan, in a recent interview for the Guardian :
Why Boredom Is Good for Your Creativity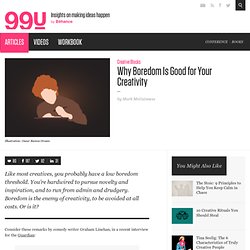 MUD: Minimum Usable Design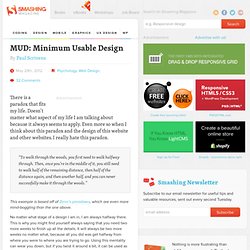 There is a paradox that fits my life. Doesn't matter what aspect of my life I am talking about because it always seems to apply. Even more so when I think about this paradox and the design of this website and other websites. I really hate this paradox.
Turns out that brainstorming--that go-to approach to generating new ideas since the 1940s--isn't the golden ticket to innovation after all. Both Jonah Lehrer, in a recent article in The New Yorker , and Susan Cain, in her new book Quiet , have asserted as much. Science shows that brainstorms can activate a neurological fear of rejection and that groups are not necessarily more creative than individuals. Brainstorming can actually be detrimental to good ideas. But the idea behind brainstorming is right. To innovate, we need environments that support imaginative thinking, where we can go through many crazy, tangential, and even bad ideas to come up with good ones.
A Day Without Distraction: Lessons Learned from 12 Hrs of Forced Focus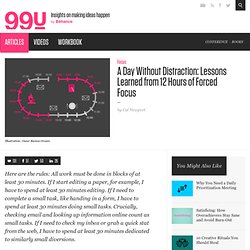 Here are the rules: All work must be done in blocks of at least 30 minutes. If I start editing a paper, for example, I have to spend at least 30 minutes editing. If I need to complete a small task, like handing in a form, I have to spend at least 30 minutes doing small tasks.