Inspiration
AIGA Design Archives. Inspiring Creativity : InSource. As in-house creative leaders, we're charged with inspiring our teams to be and stay creative.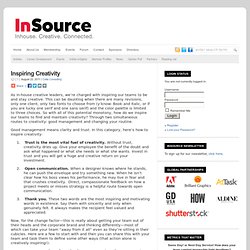 This can be daunting when there are many revisions, only one client, only two fonts to choose from (y'know: Book and Italic, or if you are lucky one serif and one sans serif) and the color palette is limited to three choices. So with all of this potential monotony, how do we inspire our teams to find and maintain creativity? Through two simultaneous routes to creativity: good management and changing your routine. Good management means clarity and trust. In this category, here's how to inspire creativity: Common elements used in interface button design. Buttons and navigational elements are quite possibly the most commonly used interface objects in both desktop and mobile design.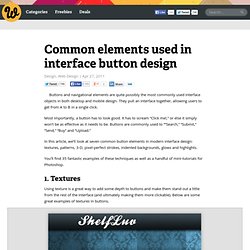 They pull an interface together, allowing users to get from A to B in a single click. Most importantly, a button has to look good. It has to scream "Click me! 50 Clever Logos. I know everybody and their brother does logo roundups so you're probably sick of them, but I don't believe I've ever done one and there is a particularly impressive brand of logo design that I wanted to point out.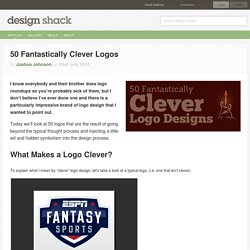 Today we'll look at 50 logos that are the result of going beyond the typical thought process and injecting a little wit and hidden symbolism into the design process. What Makes a Logo Clever? To explain what I mean by "clever" logo design, let's take a look at a typical logo, (i.e. one that isn't clever). The logo above is a nice piece of work. The colors are perfect, the lettering is masculine, the overall feel is athletic and the glossy effect works well. 30 Portfolios to Inspire You. Portfolios can be designed in several forms, specially those related to design, photography and other creative professions.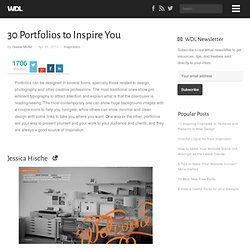 The most traditional ones show pro eminent typography to attract attention and explain what is that the client/user is reading/seeing. The most contemporary one can show huge background images with a couple icons to help you navigate, while others can show minimal and clean design with some links to take you where you want. One way or the other, portfolios are your way to present yourself and your work to your audience and clients, and they are always a good source of inspiration.
Jessica Hische.
---