intranät
Get flash to fully experience Pearltrees
What is contextual integration? Contextual integration is a technique for creating meaningful relationships between information types. This makes it much easier for people to find information by allowing them to use a range of entry points to access content, instead of the usual single hierarchical entry point that many intranets provide.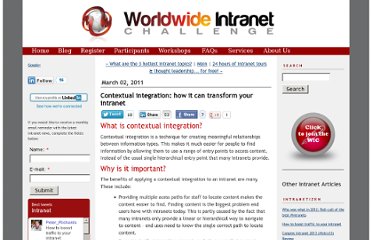 Låt mig dela ett intressant exempel med er på samspelet mellan interna väletablerade reklamationsrutiner på ett företag och sociala medier. Företaget är Saltå Kvarn som idag använder en Facebook-liknande plattform, Ning för sin internkommunikation. Ning är en webbtjänst som låter användarna skapa sitt eget sociala nätverk. I grundutförandet gratis men uppgradering är möjlig till en mindre kostnad för att anpassa nätverket helt för de egna behoven och t.ex. slippa sökordsannonseringen som finns i gratisversionen. Man väljer sedan själv om nätverket ska vara publikt eller stängt. Idén om något internt forum för kommunikation växte fram hos Saltå Kvarn ur den positiva interna respons som Johan Ununger, VD och Lena Ekman, informationsansvarig fick efter att ha arbetat med Saltåbloggen .
18th April, 2009 - Posted by Sean R. Nicholson - 14 Comments Sean R. Nicholson Building a new Intranet or being asked to update an outdated portal can be a daunting task.
Välkommen till Talentum HR: arbetsrätt, arbetsmiljö, kompetensplanering och grundläggande HR. Tyvärr fungerar inte den länk du försökt använda. Om du skrev länken själv, kontrollera stavningen och försök igen. Blev du länkad hit från en annan sida? Rapportera gärna den felaktiga länken genom att klicka här Vill du direkt till Talentum HR: arbetsrätt, arbetsmiljö, kompetensplanering och grundläggande HRs förstasida, klicka här .
Get an inside look at the 10 best intranet designs of 2013 — this is the only place to find this information. Comprehensive case studies keep you up-to-date on current trends and challenges, which you can use to improve your own intranet design.