kOrEAn mAnIA
SemiFly
C.N.BLUE STORM
Official SeoHwa Sweet Potato Couple Thread - soompi forums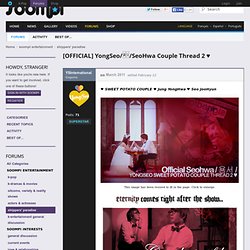 Official Seohwa/용서/Yongseo Sweet Potato Couple Thread 2 ♥ - soompi forums
•They first met a few minutes before midnight at MBC lobby. •Had their first date eating dukkbokki at Shindangdong. •Got engaged the same night, exchanged letters and bought their couple rings and mugs. •The next day they showed off their rings at KBS Music Bank.
rundevilrunsubs ♥
120818 KBS Entertainment Relay (English subtitle) Posted by chiara on September 4, 2012 CNBLUE cut Download: Mediafire My Husband Got a Family cut Download: Mediafire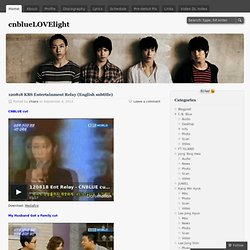 cnblueLOVElight
Download the Latest Korean, Japanese and Chinese Music « iHoneydew.com
For gogumafic's Spring-Summer Ficfest. For the June Couple. For everything they stand for in our own lives. Living Under June Joo Hyun cranes her neck towards the star-speckled sky and closes her eyes blissfully, taking in the quiet and tranquillity of the moment. The infinity pool's temperature feels just right for her tired feet, the water lapping up her mid-calves.
Soju Heaven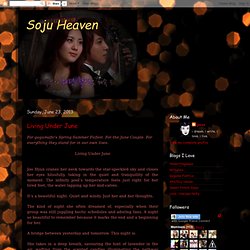 619 users are online (in the past 15 minutes) 167 members, 401 guests, 51 anonymous users (See full list) LeeJeKim, pinkytina, Encrypted, GabBlack, gensan, lensosi, noctureals, silverfox, iluvyoong, Hyperdude, justaMaomao, klaumat, sarangyoon, Leizhaj, highHIGH, simon6545, Chris91, Miyuki_07, imalazygirl, bluer, RFShippr, hanipunchririnru, bodyguard_511, SecretHunter, imtheman, SNSDbias4lyf, pilona, bewer, !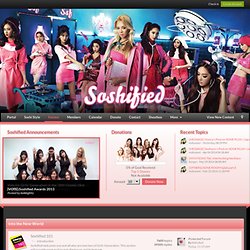 Haru2subS – High Quality English Subtitles for Korean Dramas |