Food/Farming/Health
Top Five Myths Of Genetically Modified Seeds, Busted : The Salt. Having just stepped into the shouting match over patents on genetically engineered crops, there are a few small things that I, too, would like to get off my chest.
I say small things. I'm not talking about today's big hot issues: Whether genetically modified organisms — GMOs — should be labeled, or cause cancer in rats, or might improve the lives of poor farmers in Africa; none of that. GMO labeling victory! Measure accepted onto California ballot; now the real battle begins.
(NaturalNews) In this breaking news for the food-conscious community, the California Secretary of State has just announced that the GMO labeling ballot measure has met and exceeded the requirements to be placed on the November ballot. ( and ( This measure, which has been strongly pushed by the Organic Consumers Association, the Institute for Responsible Technology, and a large number of dedicated volunteers and donors, would require genetically engineered ingredients to be indicated on food labels.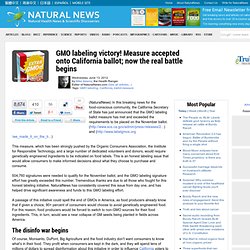 This is an honest labeling issue that would allow consumers to make informed decisions about what they choose to purchase and consume. 504,760 signatures were needed to qualify for the November ballot, and the GMO labeling signature effort has greatly exceeded this number. Tremendous thanks are due to all those who fought for this honest labeling initiative.
Food. Health. Gardening. Gordon Ramsay goes deer hunting and questions if he is becoming a vegetarian- The F Word. Recipe Sites. Sturdy Recycled Newspaper Pots Tutorial ("Origami Fold") Monsant Foods And Seeds. Cancer Cures.
---