Web development
Qt Quick
Getting Started Programming with QML
Welcome to the world of QML, the declarative UI language. In this Getting Started guide, we will create a simple text editor application using QML. After reading this guide, you should be ready to develop your own applications using QML and Qt C++. QML to Build User Interfaces The application we are building is a simple text editor that will load, save, and perform some text manipulation. This guide will consist of two parts.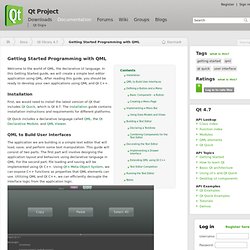 Getting Started Programming with Qt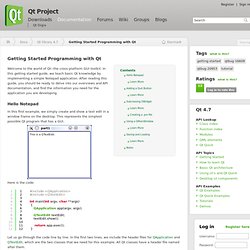 In this topic, we teach basic Qt knowledge by implementing a simple Notepad application using C++ and the Qt Widgets module. We use the Qt Creator IDE and Qt Designer to generate some code, but you could also write all the code yourself. After reading this topic, you are ready to refer to our overviews and API documentation, to find the information you need for the application you are developing. In this topic, we first use Qt Creator to create a project with the necessary files.
Tutorials
JavaScript Cookies