.net
CodePlexProject Hosting for Open Source Software StyleCop for ReSharper has now merged with StyleCop - we're in the process of migrating content over to the new StyleCop site - please download / report bugs / ask questions there: See http://stylecop.codeplex.com Any existing issues you have had with StyleCop for R# please retest with the latest StyleCop 4.5 build and open a bug there if required http://stylecop.codeplex.com/workitem/list/basic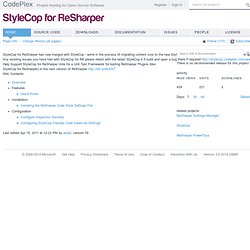 StyleCop for ReSharper
markdownsharp - Project Hosting on Google Code
Open source C# implementation of Markdown processor, as featured on Stack Overflow. This port is based heavily on the original Perl 1.0.1 and Perl 1.0.2b8 implementations of Markdown, with bits and pieces of the apparently much better maintained PHP Markdown folded into it. There are a few Stack Overflow specific modifications (which are all configurable, and all off by default).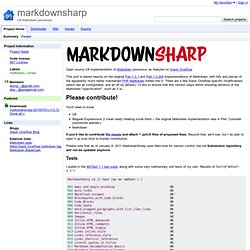 Download details: Managed Stack Explorer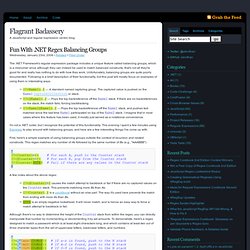 Fun With .NET Regex Balancing Groups
Wednesday, January 23rd, 2008 • Related • Filed Under The .NET Framework's regular expression package includes a unique feature called balancing groups, which is a misnomer since although they can indeed be used to match balanced constructs, that's not all they're good for and really has nothing to do with how they work. Unfortunately, balancing groups are quite poorly documented. Following is a brief description of their functionality, but this post will mostly focus on examples of using them in interesting ways. Note: If you're reading this in a feed reader or aggregator, see the original post, which uses regex syntax highlighting to hopefully make things easier to follow. (?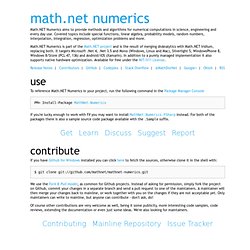 Math.NET Numerics aims to provide methods and algorithms for numerical computations in science, engineering and every day use. Covered topics include special functions, linear algebra, probability models, random numbers, interpolation, integration, regression, optimization problems and more. Math.NET Numerics is part of the Math.NET project and is the result of merging dnAnalytics with Math.NET Iridium, replacing both. It targets Microsoft .Net 4, .Net 3.5 and Mono (Windows, Linux and Mac), Silverlight 5, WindowsPhone 8, Windows 8/Store (PCL 47, 136) and Android/iOS (Xamarin). In addition to a purely managed implementation it also supports native hardware optimization. Available for free under the MIT/X11 License.
Math.NET Numerics
The Wayward WebLog : LINQ: Building an IQueryable provider serie
Welcome to SaaSGrid
Documentation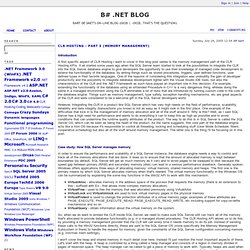 CLR Hosting - part 3 (memory management) - B# .NET Blog
Sunday, July 24, 2005 12:54 AM bart Introduction A first specific aspect of CLR Hosting I want to cover in this blog post series is the memory management part of the CLR Hosting APIs.
Source Checkout - unconstrained-melody - Project Hosting on Goog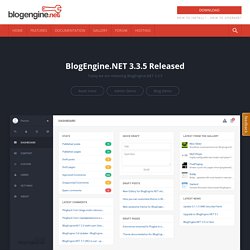 BlogEngine.NET is an open source ASP.NET project that was born out of desire for a better blogging platform. We focused on simplicity, ease of use, extendibility and innovative design while taking advantage of the latest .NET features. BlogEngine.NET is easily customizable. We have many downloadable themes, widgets, and extensions or you can make your own with some basic .NET skills. With BlogEngine.NET, it is easy to make your blog look and function exactly how you'd like.