LaTeX
The LaTeX Font Catalogue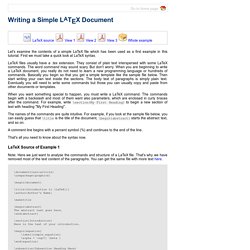 Writing a Simple LaTeX Document
Go to home page LaTeX source View 1 View 2 View 3 Whole example
A Simple LateX Template
PhD Thesis LaTeX style For my PhD thesis, I wanted a style which was different to anyone else's, so I spent some time making a personal style file. This style has since been adopted by quite a few more PhD students in the Physics school at the University of Melbourne. Feel free to use any or all of the style for your own work.
PhD THesis LaTeX style - Jamie Stevens
Bibliography with BibTeX - Andrew Roberts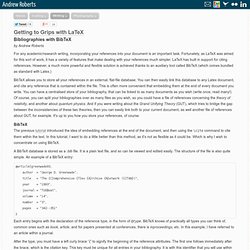 by Andrew Roberts For any academic/research writing, incorporating your references into your document is an important task. Fortunately, as LaTeX was aimed for this sort of work, it has a variety of features that make dealing with your references much simpler. LaTeX has built in support for citing references. However, a much more powerful and flexible solution is achieved thanks to an auxiliary tool called BibTeX (which comes bundled as standard with Latex.) BibTeX allows you to store all your references in an external, flat-file database.
Using BibTeX to Create a Bibliography
Using BibTeX to Create Your Bibliography Using BibTex Here's what to do after you have entered your sources in JabRef, EndNote , Bookends or BibDesk: For TeXShop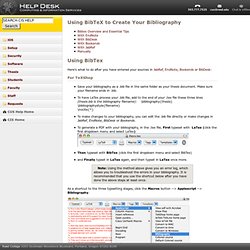 This is a guide to the LaTeX markup language. It is intended to form a useful resource for everybody from new users who wish to learn, to old hands who need a quick reference. TeX and LaTeX TeX is a computer program for typesetting documents, created by D. E. Knuth.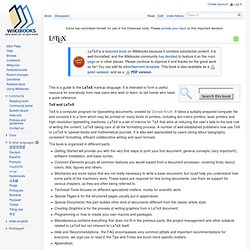 LaTeX -- A Typesetting Program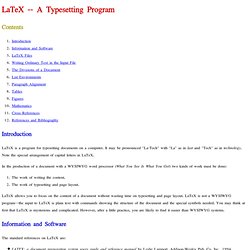 Contents Introduction LaTeX is a program for typesetting documents on a computer. It may be pronounced "La-Tech" with "La" as in last and "Tech" as in technology . Note the special arrangement of capital letters in LaTeX.
LaTeX/Command Glossary - Wikibooks, collection of open-content textbooks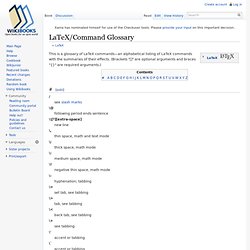 This is a glossary of LaTeX commands—an alphabetical listing of LaTeX commands with the summaries of their effects. (Brackets "[]" are optional arguments and braces "{}" are required arguments.) [ edit ] # see slash marks following period ends sentence \\[*][extra-space]
Welcome to the documentation of TeXnicCenter — TeXnicCenter 2.0 documentation
The TeX Catalogue OnLine, Topic Index
The TeX Catalogue by Graham Williams Topic Index by Jürgen Fenn Last modified: 28 February 2013