General - useful resources
Literature Review Resources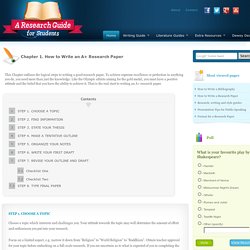 This Chapter outlines the logical steps to writing a good research paper. To achieve supreme excellence or perfection in anything you do, you need more than just the knowledge. Like the Olympic athlete aiming for the gold medal, you must have a positive attitude and the belief that you have the ability to achieve it. That is the real start to writing an A+ research paper.
Hello I've been looking for methodology&software for organizing scientific research and research resources for few weeks. I've just started my PhD study and I need to organize my research much better. Needs: N1) organizing files and documents which cover few topics and/or are written by few authors N1b) organizing bookmarks (links) which also usually cover few topics N2) commenting files (e.g. commenting documents which I read) N3) making links (relation) between files/notes etc. N4) describing documents in some kind of bibliographic form N5) making some notes/todo list etc.
How do you organize your research | Graduate Students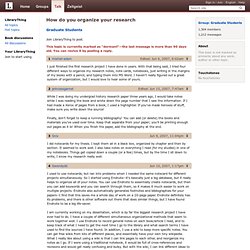 This template defines in Word a few of the basic styles found in a LaTeX document, so that people who don't know how to use LaTeX and are too lazy to figure out how to do so, or people who don't have access to a LaTeX system, may create documents which look convincingly like they were the product of the superior typesetting system. To use the template, you will need to install the truetype versions of the Computer Modern fonts, produced by BaKoMa from the original fonts by Donald Knuth. These may be found on CTAN in the UK , the USA or from any of the many other mirror sites .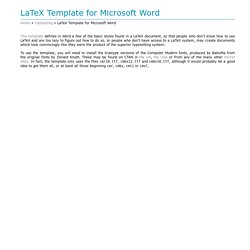 James Lingard - LaTeX Template for Microsoft Word