Scrum/Agile reading
Agile Project Management, Agile Development and Scrum Tool | VersionOne. What Does Scrum Stand For? Written by: Ronda Bowen • edited by: Michele McDonough • updated: 5/29/2013 You may have found yourself wondering what "Scrum" stands for.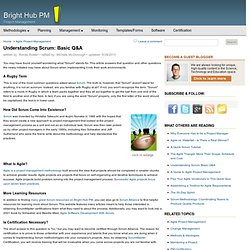 This article answers that question and other questions the newly initiated may have about Scrum when implementing it into their work environments. A Rugby TermThis is one of the most common questions asked about Scrum. FAQ Training and Certification. FAQ Sections General FAQ Why does Scrum Alliance offer a certification program?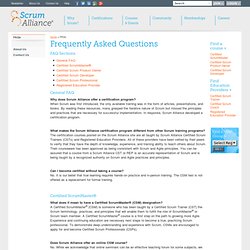 When Scrum was first introduced, the only available training was in the form of articles, presentations, and books. The Product Manager – Role and Responsibilities : Agile101 – Agile Project Management and Digital Publishing. The Product Manager represents the Product Owner and the End-User/Customer – they are responsible for defining and scheduling the delivery of high quality output in line with business requirements and priorities .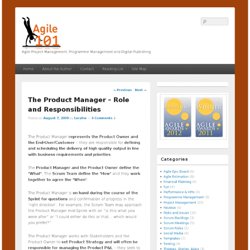 The Product Manager and the Product Owner define the 'What' , The Scrum Team define the 'How' and they work together to agree the 'When' . The Product Manager is on hand during the course of the Sprint for questions and confirmation of progress in the 'right direction'. Agile Epic Board : Agile101 – Agile Project Management and Digital Publishing. Aside from being the high point of a visit by a number of McKinsey Management Consultants (who apparently stopped to take pictures – no joke), the Epic Board also got the nod of approval from Howard Averill, CFO of Time Inc.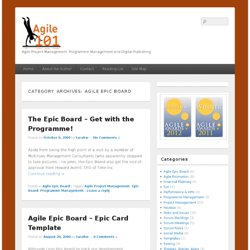 Continue reading Although I use this board to track our development programme across multiple products, teams and sprints, the Epic Board can also be a very useful project management tool. See The Epic Board – An Essential Project Management Tool. Continue reading. Implementing Scrum – PowerPoint Presentation. After seeing how popular my last presentation was (10 Key Principles of Agile Software Development) – and following numerous requests to do another one – I've created this PowerPoint presentation about 'Implementing Scrum'.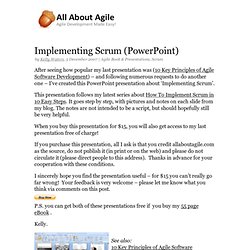 This presentation follows my latest series about How To Implement Scrum in 10 Easy Steps. It goes step by step, with pictures and notes on each slide from my blog.
---