Venture Capital
Shifts in the Venture Capital Market
If you remember the dot-com bubble, the fact that more than 50 percent of all venture capital dollars raised in 2000 were between software, telecommunications and computer hardware companies shouldn't be surprising. What's interesting is to see how the composition of the venture capital market has changed since that bubble burst. Venture Capital Investment History <br /><a href="#"><img alt="Venture Capital Investment History " src="http:&#47;&#47;public.tableausoftware.com&#47;static&#47;images&#47;vc&#47;vcq1_2011&#47;VentureCapQ1_11&#47;1_rss.png" height="100%" /></a>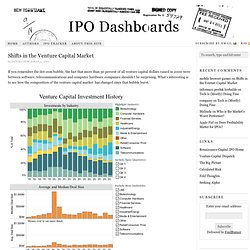 Questioning the Performance of 2011 IPOs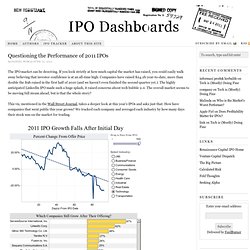 The IPO market can be deceiving. If you look strictly at how much capital the market has raised, you could easily walk away believing that investor confidence is at an all-time high. Companies have raised $24.2b year-to-date, more than double the $9b raised in the first half of 2010 (and we haven't even finished the second quarter yet.). The highly anticipated LinkedIn IPO made such a huge splash, it raised concerns about tech bubble 2.0.
What Happened to the Future? « Founders Fund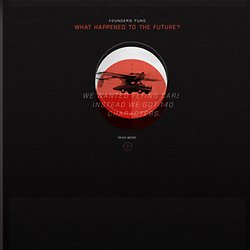 We invest in smart people solving difficult problems, often difficult scientific or engineering problems. Here's why: We have two primary and related interests: Finding ways to support technological development (technology is the fundamental driver of growth in the industrialized world).Earning outstanding returns for our investors. From the 1960s through the 1990s, venture capital was an excellent way to pursue these twin interests.
First Day IPO Pops
In light of today's LinkedIn (LNKD) double, I want to refer you to this spectacular act of research by Prof. Jay R. Ritter of the University of Florida, who reviewed the initial public offerings (IPOs) of common stock ( >$5.00 and proceeds >$5 million) of all non-ADR operating companies during 1975-2004 that at least doubled in price on the first day of trading.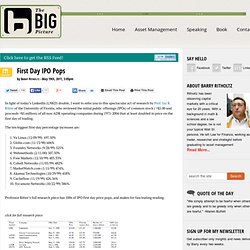 Top Trends of 2011: Second Screen Apps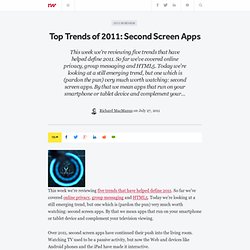 This week we're reviewing five trends that have helped define 2011. So far we've covered online privacy, group messaging and HTML5. Today we're looking at a still emerging trend, but one which is (pardon the pun) very much worth watching: second screen apps.
The Venture Capital Revival
There have been a number of narratives in circulation over the last year or so: the "we're in a tech bubble" (or "we're not in a tech bubble") narrative, the "venture capital is in decline" narrative (or "venture capital is broken"). So here's a new one to add to the mix: we're in a "venture capital revival." That's the argument being made by Clearstone Venture Partner's Managing Director William Quigley. His 50-page report, released today, chronicles the changes to venture capital over the past decade and ends, not with an assessment about the end of VC but rather the possibilities for a stronger future. The report identifies several factors that make conditions better today than for investors than they have been in over a deade. There are fewer VCs, for one thing, and a new era for technology startups has emerged.