Job Search Process
Welcome to MyPath: Career Doctor: Consulting While Looking For A Job - A Quick Q & A
There are a lot of super resources on the internet for job search help. And I will agree, it can be overwhelming. This post, and the others written by the experts of Career Collective (down below) will help you sift through the data to find the most useful tools for your toolbox.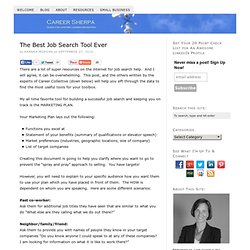 The Best Job Search Tool Ever
For Lynn Nicholas, president and CEO of the MHA, the issue of smoking is personal. "I have lost my own father and many, many of my beloved relatives to smoke and secondhand smoke," she said.
Mass. Hospital Association To Ban Hiring Smokers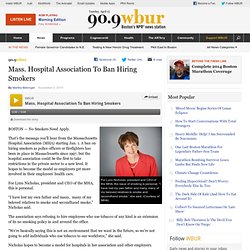 AvidCareerist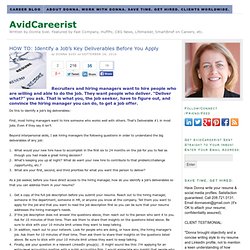 Do this to identify a job's big deliverables:
AvidCareerist
C-level Executive Resume Writing, Biography, Personal Branding, Online Identity, Job Search Services
AvidCareerist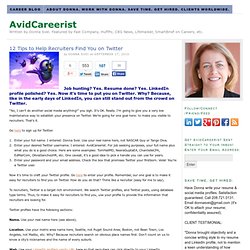 "No, I can't do another social media anything!"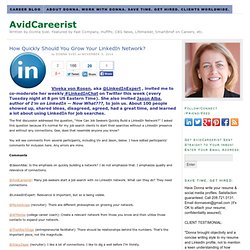 The first discussion addressed the question, "How Can Job Seekers Quickly Build a LinkedIn Network?"
AvidCareerist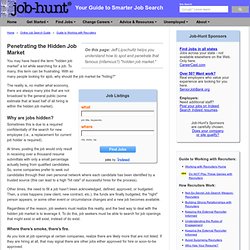 Penetrating the Hidden Job Market
Home « Online Job Search Guide « Guide to Working with Recruiters You may have heard the term "hidden job market" a lot while searching for a job. To many, this term can be frustrating.
Top ten job search best practices - National career management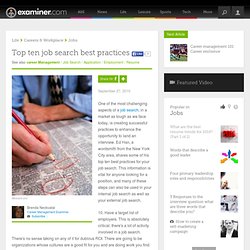 One of the most challenging aspects of a job search, in a market as tough as we face today, is creating successful practices to enhance the opportunity to land an interview. Ed Han, a wordsmith from the New York City area, shares some of his top ten best practices for your job search. This information is vital for anyone looking for a position, and many of these steps can also be used in your internal job search as well as your external job search. 10.
AvidCareerist
One of the most effective ways to job hunt is to create a targeted list of companies where you might want to work. Once you've done that, you can laser focus your efforts on learning about the companies and connecting with people who can connect you to jobs inside those companies.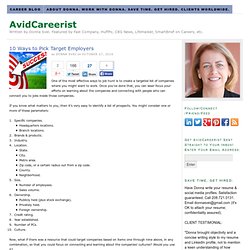 The Monster Blog
« Pop-Culture Report: If Your Boss Were a Movie Character | Main | Making the Most of Monster.com's Job-Search Tools » October 26, 2010 Top Ten Job-Search Hashtags If you're in the market for a new job, you should be using Twitter--not because tweeting is likely to replace traditional job-search methods (such as a well-crafted resume, online job boards, and face-to-face networking), but because it's a great complement to these tried-and-true tools. Some recent surveys suggest that up to 90 percent of companies have some sort of social-media presence.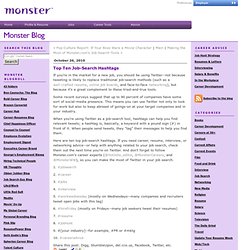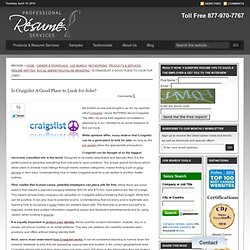 My brother-in-law just bought a car for my nephew off of Craigslist.
Is Craigslist A Good Place to Look for Jobs? | Professional Resume Services
Most of what you hear about using Facebook while looking for a job involves keeping your information as private as possible from potential employers.
Job Search: Facebook: The Untapped Job Board
The HireFriday #HFChat Digest (10/21)
Green Industry Job Search Resources
Home « Online Job Search Guide « Guide to Green Industry Jobs
December 19th, 2012
Resume Confidential » Blog
Career advisors often suggest that you take control of your employment interviews. I want to offer another point of view. Here's why.
AvidCareerist
AvidCareerist
A Twitter Friend and I have shared these messages with each other this week:
5 Ways to Create Random Acts of Love | Tiny Buddha
8 Photoshop Tutorials for Retouching Your Profile Pic
8 Ways to Dissolve Your Career Fears
Overload Request to Jobseekers » MyJobScope
Using USAjobs to Find a Federal Government Job
approach the job market
Job Opportunities | About Us | First Presbyterian Church of Bellevue
AvidCareerist
AvidCareerist
Employers Recruiting Twitter List by Susan P. Joyce on Listorious
HOW TO: Use Twitter Hashtags to Boost Your Job Search
Use The Back Door | Solutions from Design Resumes & Thoughts from Julie Walraven
AvidCareerist
AvidCareerist
Overcoming Age Bias
AvidCareerist
AvidCareerist
AvidCareerist
Are You Boring Your Network Silly?
AvidCareerist
AvidCareerist
AvidCareerist
AvidCareerist
AvidCareerist
AvidCareerist
AvidCareerist
AvidCareerist
AvidCareerist
AvidCareerist
The Process of Job Search