Usability
10 Useful Firefox Extensions to Supercharge Firebug. Firebug is a revolutionary Firefox extension that helps web developers and designers test and inspect front-end code.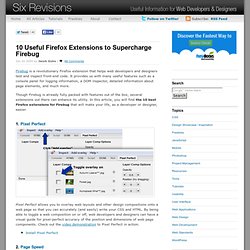 It provides us with many useful features such as a console panel for logging information, a DOM inspector, detailed information about page elements, and much more. Though Firebug is already fully packed with features out of the box, several extensions out there can enhance its utility. How to create a Twitter-style alert with jQuery, CSS, and PHP / Written by Brian Cray on May 6th, 2009 If you're into taking apart code, skip all this and see the end result or download the source!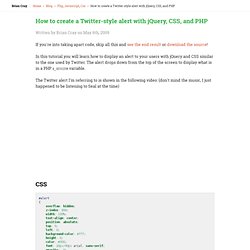 In this tutorial you will learn how to display an alert to your users with jQuery and CSS similar to the one used by Twitter. The alert drops down from the top of the screen to display what is in a PHP variable. The Twitter alert I'm referring to is shown in the following video: (don't mind the music, I just happened to be listening to Seal at the time) jQuery. 7 Harsh Truths about running online communities Boagworld. Content Strategy: The estimated time to read this article is 8 minutes Don't get me wrong, I am excited to see organisations embracing the idea of community.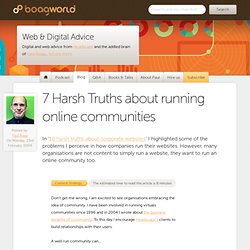 I have been involved in running virtuals communities since 1996 and in 2004 I wrote about the business benefits of community. To this day I encourage Headscape's clients to build relationships with their users. A well run community can…
---