For
Hashtag. Useful Glossaries For Web Designers and Developers | Developer&a. Advertisement In a day in age where there are just as many freelancers as there are university educated designers, developers, and all around web gurus, it is amazing to me how much many of us don't know or have forgot about our trade.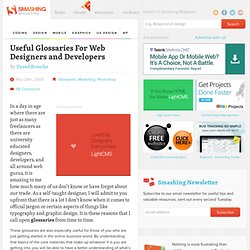 As a self-taught designer, I will admit to you upfront that there is a lot I don't know when it comes to official jargon or certain aspects of things like typography and graphic design. It is these reasons that I call upon glossaries from time to time. These glossaries are also especially useful for those of you who are just getting started in the online business world. Skype for iPhone 1.2 Released: Includes Number of Improvements - Skype released a new version of their iPhone app earlier in the week with number of improvements (it's one of my favorite iPhone apps).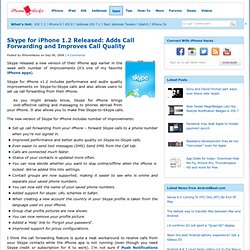 Skype for iPhone v1.2 includes performance and audio quality improvements on Skype-to-Skype calls and also allows users to set up call forwarding from their iPhone. As you might already know, Skype for iPhone brings cost-effective calling and messaging to phones abroad from your iPhone. Google Analytics Mega-Post: 23 Google Analytics Tips and Tweaks. You may have noticed that I love SEO tools, and one of my most favorite ones is Google Analytics because it allows for a huge number of setting and configurations.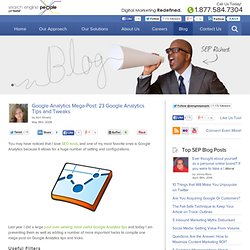 Last year I did a large post over-viewing most useful Google Analytics tips and today I am presenting them as well as adding a number of more important hacks to compile one mega-post on Google Analytics tips and tricks: Useful Filters 1. Track full referring URLs.
---