Ping.fm 29
One Degree: What My 15-Year Old Son Taught Me About Marketing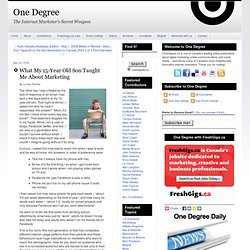 by Lynda Partner
Seth's Blog: Can you change everything?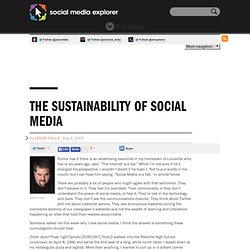 Jason Falls Rumor has it there is an advertising executive in my hometown of Louisville who, five or six years ago, said, "The Internet is a fad." While I'm not sure if he's changed his perspective, I wouldn't doubt if he hasn't.
The Sustainability of Social Media
FT.com / Columnists / Lucy Kellaway - Twittering executives reve
Enjoy full access to FT.com's award-winning news, comment and analysis. With over from 500 journalists reporting from over 50 countries, read our trusted news, expert insight and authoritative opinion as it's happening. Access FT.com's 5 year archive of news, comment, analysis, reports and more for all the information on factors affecting your business you need. Whether you're researching a competitor or just need background information for a presentation, you're sure to find what you need.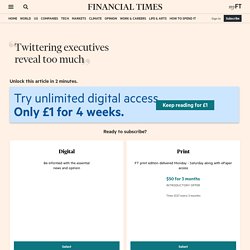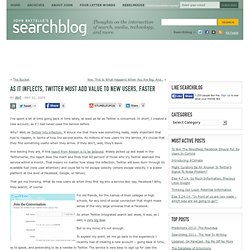 As It Inflects, Twitter Must Add Value to New Users, Faster - Jo
I've spent a bit of time going back in time lately, at least as far as Twitter is concerned. In short, I created a new account, as if I had never used the service before. Why? Well, as Twitter hits inflection , it struck me that there was something really, really important that had to happen, in terms of how the service works.
This past weekend, while walking around San Francisco's Union Square shopping area, I decided to stop by at one of my favorite stores — Thomas Pink — to see if they had any exciting new shirts worth buying. While shopping options remained tame, I did get ...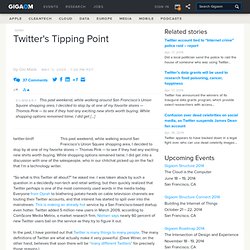 Twitter's Tipping Point
Facebook Shuts Ku Klux Klan Group: TOS WIN
Micro Persuasion: The End of the Destination Web Era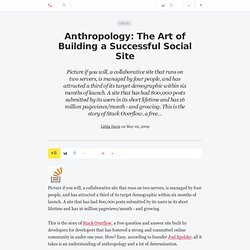 Picture if you will, a collaborative site that runs on two servers, is managed by four people, and has attracted a third of its target demographic within six months of launch. A site that has had 800,000 posts submitted by its users in its short lifetime and has 16 million pageviews/month - and growing. This is the story of Stack Overflow , a free question and answer site built by developers for developers that has fostered a strong and committed online community in under one year. How? Easy, according to founder Joel Spolsky ; all it takes is an understanding of anthropology and a lot of determination. "As we move from the era of computing into the era of the Internet, we no longer need to worry about computer-human interaction."
Anthropology: The Art of Building a Successful Social Site - Re
Thinking about thunder
I read an interesting blog post by Mike Markson , VP of Marketing for Blekko , which is the working name for a new search engine planned to launch to the public in a few months. The title of Mike's post was "Google Likes To Steal Other's Thunder," and he mentions several anecdotes to back up that idea. I was going to leave a comment on the post, but then Barry wrote about it at Search Engine Land , so I thought I'd go ahead and do a full blog post. I have actual knowledge (gasp!) of some of these incidents, so I can probably clear up a few misconceptions.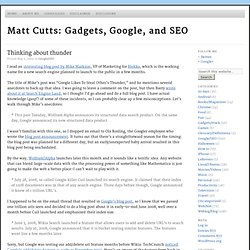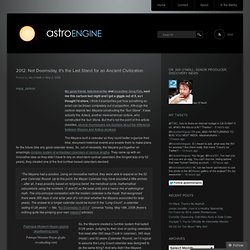 2012: Not Doomsday, It's the Last Stand for an Ancient
My good friend, talented writer and co-author Greg Fish , sent me this cartoon last night and I got a giggle out of it, so I thought I'd share. I think it exemplifies just how something so small can be blown completely out of proportion. Although the cartoon depicts two Mayans constructing the "Sun Stone", it was actually the Aztecs , another mesoamerican culture, who constructed the Sun Stone. But that's not the point of this article (besides, several doomsayers are clueless about the difference between Mayans and Aztecs anyway ). The Mayans built a calendar so they could better organize their time, document historical events and enable them to make plans for the future (like any good calendar does). So, out of necessity, the Mayans put together an amazingly complex system of embedded calendars of various lengths .
Integrating AdSense In Your Google Analytics Stats Here's how you can integrate AdSense revenue and top content information into your Google Analytics dashboard for your site.
Integrating AdSense In Your Google Analytics Stats
Weekly Wrapup: Facebook vs Twitter, State of the Web, Google Pub
I got a call a few weeks ago from a telemarketer at Premier Impressions. (Her number is 800 778 6304). She told me she was selling ads for a free directory being published by my local library.
Seth's Blog: The banal brazenness of telescammers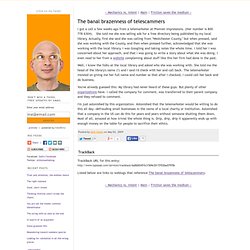 How To Win a Social Media Award! : Buzz Networker - Social Netwo
The Man Who Made Gmail Says Real-Time Conversation is What'
Other Sports | Sports go mad for online pastime Twitter | Seattl
Originally published April 29, 2009 at 12:00 AM | Page modified April 29, 2009 at 11:13 AM More on Twitter Twittonary It's hip to be a twit. Don't know what we're talking about?
We've taken your miniblog to the next level by integrating comments using Disqus.
Chi.mp adds comments with Disqus - blog.chi.mp
The Online Ad Recession Is Officially Here: First Quarterly Decl
It was the last part of the advertising sector to fall and may be the first to recover, but online advertising is now in a recession. With the four largest Web advertising companies ( Google , Yahoo , Microsoft , and AOL ) having reported March quarter financials, we can get a pretty good sense of how the sector did as a whole. If you add up the online advertising revenues of these four online advertising bellwethers, the total online advertising revenues for the quarter came to $7.9 billion, a 2 percent decline from a year ago and a 7 percent decline from the fourth quarter. The growth of online advertising has been slowing down for a while , but this is the first quarter to experience an actual decline in revenues.
Running List of the Five Eras of The Social Web Web Strategy b
How We Talk About Social Media
@AKGovSarahPalin joins Twitter
How To Manage Your Facebook Relationships With Friend Lists
Why It's a Terrible Idea to Unfollow Everyone on Twitt
Content Marketing Today 6 Reasons Why Your Blog Is Your Most Im
Astroengine Featured on CNET - Astroengine.com
New in Labs: Google Search right in Gmail
Your prospects are tweeting Rob's World
Twitter Search for Everyone!
Is Twitter Transforming How YOU Communicate? | Blog of Mr. Tweet
Relationship is the argument Levite Chronicles
Case Study: Yamaha's Conversation with Their Customers
Incompatible Browser
If everything was made by Microsoft
Social Media Success 201: Forget About Your Brand, Get a Persona
Social Networking 101: Basic Tips For Online and Offline Social
Journalism 2.0: Don't Throw Out the Baby - ReadWriteWeb
Will Twitter Replace Google in Search?
IBM turns its developer site into a social network VentureBeat
10 Ways to Turn Google Calendar into an Effective Time Managemen
Tweeting Under The Radar: 5 Great Twitter Stories You Might&
It's time for companies to get serious about blogging - The
Facebook Duplicates Twitter, Launches Status Text Updates
Social Business mobile edition
Retailers Utilize Facebook Connect to Make Online Shopping More
What's The Deal with OAuth?
Social Web Blog: Engage your community with the Get Answers gadg
Did You Know WordPress Has It's Own URL-Shortener Buil
Windows Live To Add More Social Network Partners (Digg, MySpace,