Ping.fm 27
Often, I'll get asked which books I suggestfor social media. Sometimes I'll quip, "[Besides Now Is Gone,] How to Win Friends and Influence People." But in reality, while it's something of a joke, but also a pretty serious recommendation ( Image: Happy by kkoshy ). Dale Carnegie's principles have stood the test of time because they are about fostering better relations amongst people. And the classic mistake with social media is to treat it like a mass communications vehicle, when it's a conversational form that builds relationships.
Friends: Principles Applied 80 Years Later to Social Networking
Stanford University's Facebook Profile is One of the M
With over 35,000 fans , Stanford University's Facebook Page ranks among the top five most popular Facebook public profiles owned by a US academic institution. According to PageData , Stanford shares a spot in the top five with the University of Kansas, Ohio State University, Texas A&M, and Indiana University. However, even the most popular university page, the University of Kansas , only has about 40,000 fans – much lower than celebrity numbers we've seen. This number makes sense though: colleges and universities are more likely to draw a small, tight-knit group of fans – mainly comprised of students, alumni, staff, and faculty. How has Stanford grown its audience? Take a look at Stanford's new fans per day over the past month: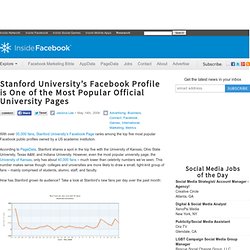 6 Tools To Monitor Your Brand|Black Web 2.0
Twitter is has become a crucial part of my online life: I use it for my personal brand management, as a news source, and as a resource for answering any questions I might have. When I'm on the go, I use the popular Twitter client Tweetie on my iPhone,but when I'm sitting at my computer I use the Twitter Gadget for Gmail . I prefer using the web interface simply because it's extremely lightweight — and I have yet to find a desktop client that I like.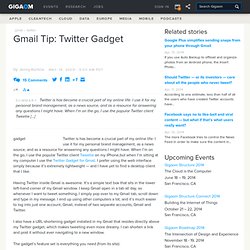 Gmail Tip: Twitter Gadget
Where does everyone go after Twitter? Here's the top 1
The Seven Deadly Sins of Social Media
3 Key Twitter Changes Lost in the Hysteria | Social Media Market
Twitter's Spectacularly Awful 24 Hours
Twitter just went through an awful 24-hour stretch. It included taking away a feature some people loved, probably being misleading about it, getting a huge amount of backlash, halfway bringing the feature back, and getting railed by the press for it all — with bouts of downtime mixed in for good measure. This is hardly the first time Twitter has had everyone up in arms, and it won't be the last, but it's pretty astonishing how the company seemed to solve one problem by creating two more. Sure, it's easy to play desk-chair quarterback, and probably a bit unfair — but it's also fun, and a good cautionary tale, so let's do that.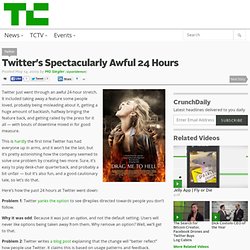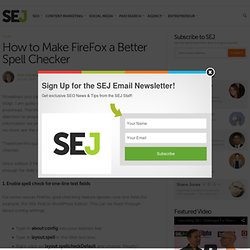 How to Make FireFox a Better Spell Checker
in Share 0 Nowadays you can spot mis-types and misspellings even on most reputable blogs. I am guilty of that myself, despite the fact that I always take time to proofread. The thing is not even about (or mostly is not about) us paying less attention to proper language but rather about the overwhelming amount of information we process daily: our eyes are too used to letters and words and no more see the mistakes. Therefore this quick FireFox toolkit is about making it a more powerful spell checker. Since edition 2 FireFox has introduced a great spell checking ability.
Left: Dr.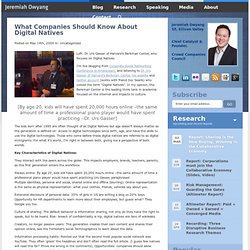 What Companies Should Know About Digital Natives Web Strategy
MediaShift . Twitter Mania: Will Twitter Change the World?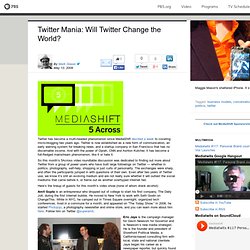 Twitter has become a multi-headed phenomenon since MediaShift devoted a week to covering micro-blogging two years ago. Twitter is now established as a new form of communication, an early warning system for breaking news, and a startup company in San Francisco that has no discernable income. And with the power of Oprah, CNN and Ashton Kutcher, it has become a full-fledged mainstream phenomenon, like it or hate it. So this month's 5Across video roundtable discussion was dedicated to finding out more about Twitter from a group of power users who have built large followings on Twitter -- whether in politics, photography, self-help, shopping or just cults of personality. The exchanges were sharp, and often the participants jumped in with questions of their own. Even after two years of Twitter use, we know it's still an evolving medium and are not really sure whether it will outlast the social mediums that came before it, or flame out as another overhyped Internet fad.
NTEN offered a fantastic Webinar today featuring Randi Zuckerberg, Director of Marketing at Facebook and Adam Conner from the DC Office on the emerging best practices for nonprofits who want to set up Facebook Fan Pages. Here's the description
Beth's Blog: How Nonprofits Can Use Social Media: So you w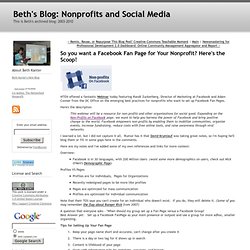 drew olanoff dot com. - How NOT to manage a community - Twitter
New York Times To Restore Links To IHT Stories In Coming Weeks
Over the weekend, the New York Times was once again ridiculed for how links to its former International Herald Tribune web site were not redirecting readers to new locations for IHT stories. The situation, which was first noticed at the end of March , seemed another example of a newspaper that didn't get the online world. Well, it's being fixed now.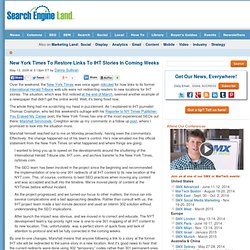 Docstoc leave beta, launches API and revenue sharing
What is the obligation that companies have to their customers to listen to — and act on — the feedback they receive from customers? Well, if you are in the Social Media Age of 2009, the obligation is high, the pressure intense. No longer can developers put out a product or service, form a business around it, and then expect to run their business however they choose. Today, customers have the unprecedented power of social media communication tools at their fingertips, and feedback is no longer relegated to easily ignored emails that pass through the ether into oblivion. Feedback is now big news. Take this week's #twitterfail and #fixreplies fiasco.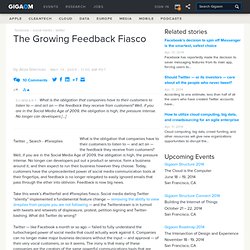 The Growing Feedback Fiasco
PR 2.0: Significant
Your Brand Needs Help: What Brands Are Doing Wrong on Twitter |
Why Communicators Don't Get LinkedIn The Buzz Bin
LinkedIn is the network that no communicator really seems to love. Complaints about not getting it, and its hard to use interface, or the inability to promote/communicate virally with large groups of people are common. Yet its staying power and growing strength are undeniable . From left to right: Chris Brogan, Kathryn Jennex, Sarah Merion, and Lewis Howes Lewis Howes' short primer, "LinkedWorking " made the communicators' problem – and the solution – clear to me. Communicators struggle with LinkedIn, but not because it lacks robustness or the viral nature of other networks.
Google Search Evolves - But Has Google Finally Lost its Core Foc
The International Olympic Committee (IOC) is gradually coming round to the idea that people are going to blog about each summer and winter Olympic Games regardless of what rules they put in place. The latest development is that the IOC will allow athletes blogs at the 2010 Vancouver Winter Games. However, there are still likely to be a number of restrictions, not least because of the definition of "blogging" versus "journalism".
2010 Winter Olympics athletes get restricted blogging go-ahead |
Sample Google Chrome Extensions
Last time when I wrote about Google Chrome extensions , they were nothing more than repackaged user scripts. Since March, the extension system has been improved by adding new APIs and options to create custom UIs. If you use a recent version of Chromium or a Google Chrome dev build , you can already install two useful extensions. But first you should find a Chrome shortcut on your desktop, right-click, select "Properties" and append a flag to the target field: --enable-extensions .
If you hear someone talking about "open source," it's quite possible that this isn't what they mean. One major soft drink company, for example, was talking about turning their brand open source. Pretty unlikely.
Seth's Blog: What kind of open are you looking for?
Women are nearly twice as likely to use blogs than social networking sites as a source of information (64%), advice and recommendations (43%), and opinion-sharing (55%), while they are 50% more likely use social networks to keep in touch with friends and family (75%), reports BlogHer. Results from the 2009 Women in Social Media Study (pdf) from by BlogHer, iVillage and Compass Partners , found that while women who use social media platforms share a strong desire to connect and to entertain themselves, their motivations for using various tools differ, MarketingCharts reports . Women Turn to Social Media in Greater Numbers Since the release of last year's Benchmark Study of Women and Social Media, research found women turn in greater numbers to blogs (55%), social networks (75%) and online status updates (20%) as primary sources of community interaction, entertainment and information:
Women Use Blogs for Info, SocNets to Connect
Facebook Audience in Germany Reaches 2 Million Users
PR 2.0: Twitter Visits Surpass New York Times and Wall Street Jo
Facebook Adds Friend Lists to Facebook Chat
Headlines and Deadlines: Reporter tweets being shot
The Art of Nonconformity Building Influence to Gain Widespread
More marketers are counting on social networks
MediaPost Publications Is My Brand Right For Twitter? 05/04/20
Ten Twitter Mythconceptions|Technologizer
Facebook Introduces Post Quality Score For Pages
RelaunchXing socialmedian - louisgray.com
Telegraph.co.uk gets 8% of its traffic from social sites malco
Men Want Faster Downloads; Women Favor Usability
Seth's Blog: What to do with people who aren't going t
10 Rules for Today's Consumers In the New World of Real-Tim
How Executives Should be Using Social Media
Facebook platform developers could see $500M in revenue this yea
MediaPost Publications From Marketing Fog To Mommy Blog 03/04/
Social Strategy for Exciting (and Boring) Brands
The Google Reader Snow Leopard theme…this is gorgeous.
Google Execs: Twitter-like Functionality Could Be Added to Searc
Your Blog vs. The World: 7 Steps To Winning The War for Attentio
Twitter and Google ... Analytics | Blind Five Year Old
Will Social Media Save The Newspaper Industry? | Social Media Ex