Ping.fm 26
Letter to a young journalist. Don't conclude from my previous post that I dislike journalism.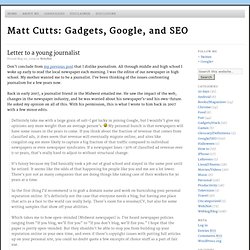 All through middle and high school I woke up early to read the local newspaper each morning. I was the editor of our newspaper in high school. My mother wanted me to be a journalist. I've been thinking of the issues confronting journalism for a few years now. Back in early 2007, a journalist friend in the Midwest emailed me. 7 FireFox About:Config Tweaks for Internet Marketers and Blogger. FireFox about:config stores the browser configurations.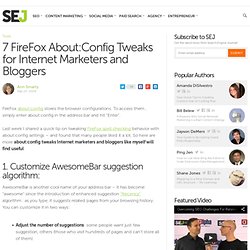 To access them , simply enter about:config in the address bar and hit "Enter". Last week I shared a quick tip on tweaking FireFox spell checking behavior with about:config settings – and found that many people liked it a lot. So here are more about:config tweaks Internet marketers and bloggers like myself will find useful: 1. Marketing with Meaning Blog Archive Product Demos with Mean. If you sell a product or service I can read your mind and know that you are spending a lot of time thinking and talking about how to improve your value equation.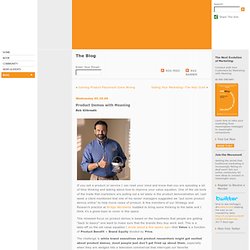 One of the old tools of the trade that marketers are pulling out a lot lately is the product demonstration ad. Last week a client mentioned that one of his senior managers suggested we "put some product demos online" to help move cases of product. A few members of our Strategy and Research practice at Bridge Worldwide huddled to bring some thinking to the table and I think it's a great topic to cover in this space. This renewed focus on product demos is based on the hypothesis that people are getting "back to basics" and want to make sure that the brands they buy work well. The Ultimate Guide to Netbooks: 100+ Resources, Tools, and Deal. Posted by admin in Uncategorized May 20th, 2009 If you like to do lots of computing on the go, chances are you've considered buying a netbook.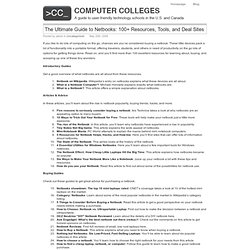 These little devices pack a lot of functionality into a portable format, offering travelers, students, and others in need of productivity on the go lots of options for getting things done. Read on, and you'll find more than 100 excellent resources for learning about, buying, and scooping up one of these tiny wonders. Introductory Guides. The FASTForward Blog A Curious Case of Enterprise 2.0 : Enterpr.
Awesome post.
You have been able to articulate so much of what I've been thinking, experiencing for the past year or so. Very much looking forward to your contribution here. Hope I see you at Enterprise 2.0 in Boston. Yes – an awesome post. There Is No Social Media Kit | Altitude Branding | Brand Elevati. Google Suggest Improves. Google has been testing manyenhancements for Google Suggest and the latest update includes some of the best ideas used in the experiments: * showing recent searches from your search history if you're logged in and Web History is enabled* being able to remove suggestions from your search history In this example, "mailinator" is a suggestion from my search history. * adding the top search result to the list of suggestion for navigational searches* displaying the "Google Search" and "I'm feeling lucky" buttons below the list of suggestions "MSN" is a navigational query, since users want to navigate to MSN's homepage.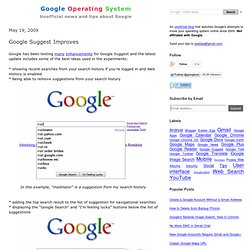 Google saves you one click by sending you directly to MSN.com. Gmail Added Message Translation. As previously anticipated, Gmail Labs added a feature that translates messages written in a foreign language.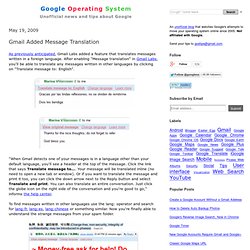 After enabling "Message translation" in Gmail Labs, you'll be able to translate any messages written in other languages by clicking on "Translate message to: English". "When Gmail detects one of your messages is in a language other than your default language, you'll see a header at the top of the message. Click the link that says Translate message to.... Twitter Search Has Big Ambitions. On May 1, Twitter added a search box to the right-side navigation area of its site.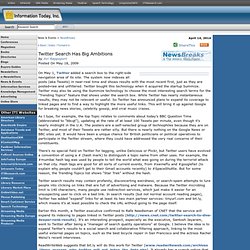 The system now indexes all posts (aka Tweets) in near-real time and shows results with the most recent first, just as they are posted-raw and unfiltered. Twitter bought this technology when it acquired the startup Summize. Twitter may also be using the Summize technology to choose the most interesting search terms for the "Trending Topics" feature that shows under the search box. While Twitter has nearly instantaneous results, they may not be relevant or useful. So Twitter has announced plans to expand its coverage to linked pages and to find a way to highlight the more useful links. Social Business mobile edition. Beth's Blog: How Nonprofits Can Use Social Media: Twittera.
Howard Rheingold has an interesting post titled "Twitter Literacy (I refuse to Make Up a Twittery Name for It).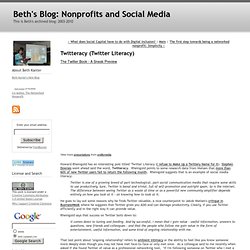 Stephen Downes went ahead said the word, Twitteracy. Rheingold points to some research data from Nielsen that more than 60% of new Twitter users fail to return the following month. Rheingold suggests that is an example of social media literacy: Twitter is one of a growing breed of part-technological, part-social communication media that require some skills to use productively. Sure, Twitter is banal and trivial, full of self-promotion and outright spam. OffiSync - Integrate Google Docs with Microsoft Office. OffiSync is a plug-in for Microsoft Office 2003/2007 that integrates the office suite with Google Docs.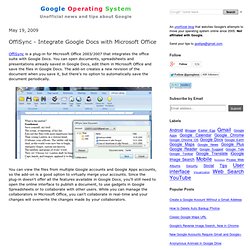 You can open documents, spreadsheets and presentations already saved in Google Docs, edit them in Microsoft Office and save the files in Google Docs. The add-on creates a new revision of the document when you save it, but there's no option to automatically save the document periodically. Slacker Geek: Update Your Facebook Profile from Outlook :: Mysti. Do you have Microsoft Outlook open all day at work dwelling on company business but would rather be updating your Facebook profile?
Today we will look at a small add-on utility which allows you to interact with your Facebook profile from within Outlook. Using FBLook FBLook is a small utility that integrates seamlessly with Outlook and allows you to update your Facebook status, show what your playing in iTunes or WMP, see your friend status, and receive notifications. Facebook Creams Twitter. Twitter Co-Founder Dorsey Talks Retention and Stability.
6 Google Docs Features to Make Collaboration More Productive. Google docs is by far one of the easiest and most full featured collaboration tools available online. To get the most out of your collaboration, you need to make your documents do more for you, and go beyond just sharing them. Here are the 6 features that help you collaborate better, and more effectively using Google Docs: The Question Concerning Social Technology - O'Reilly Radar. I am an evangelist of social media and an active participant: on Linked In (business), MySpace (music) and Facebook (increasingly my online identity), I blog on several sites and I am a daily user of Twitter.
I also make my living speaking to companies about the value and operating principles of these more open, participatory technologies. I have read the proponents that abound (Why I Love Twitter, Groundswell, Here Comes Everybody etc.) and found much to agree with. I have read the detractors ("Is Google Making Us Stupid?" …, Facebook Addiction is Real etc.…) and found little to agree with. So over the course of the next few days I will post a series of questions on the value and function of social media (a.k.a. social technologies).
Creative Commons Releases Facebook App: Choose a License for You. Tapping Communities to Accelerate Corporate Innovation I&#8. May 18, 2009 by Hutch Carpenter Jim Collins related a story back in 1999 that well-describes the problems with and opportunities for innovation inside organizations. In a Harvard Business Review article, he wrote about Phil Archuleta, a materials manager at a U.S Marines recruiting depot in San Diego. There Is Definitely Something Devious Going on Over at Reddit! For the last five months, I have been an active user of Reddit. When I first got started with Reddit, I was really impressed by how much more democratic Reddit seemed to be than Digg and some of the other social media websites. As I talked to other Reddit users, I realized that I wasn't alone in feeling this way.
As Brent Csutoras noted in a recent post, there have been a significant amount of people who have been leaving Digg and going to Reddit. The reason for these users moving to Reddit is because while Digg likes to say that they are all about their users, everyone knows that their moderators have a significant amount of control over the content that makes it to the front page (and their trend of having more control has continued to increase over time). Technology Review: Are Your "Secret Questions" Too Eas. Facebook's foreign clones. Linked Data is Blooming: Why You Should Care - ReadWriteWeb. 'Power Moms' Comprise 20% of Online Population - Mark. April's Top 50 Websites: SocNets, Swine Flu Top-of-Mind - Add Google Gadgets to your Desktop :: Mysticgeek's Rea. Emerging Technology Trends mobile edition. Get Ready For Real Time Digg, Whatever That Means.
Shopping 2.0: Current E-commerce Trends (Redux) - ReadWriteWeb. When will Twitter start for real? Did TechCrunch just write a story about another story trying to. FT.com | Tech Blog | Should Facebook charge app developers rent? Why Twitter's Engineers Ha. Know and Master Your Social Media Data Flow - louisgray.com. Beth's Blog: How Nonprofits Can Use Social Media: Can Nonp. Twitter: We'll Monetize With Search, Brands -- Social Netwo.
Innovation playground Idris Mootee: Three Secret Weapons Of Inno. Don't Believe Everything You Read on Twitter|Technolog. Wolfram Alpha Launch Starts Tonight at 5pm Pacific: Here is What. Why are jocks so atwitter about the newest social media - 05.18. Tweeting For A New Job: A Case Study Amybeth Hale – R. Twitter and Local Search: A Status Update - Search Engine Watch. Strange Attractor Blog Archive A glimpse of the future. At the ripe old age of 104, Ivy Bean is the worlds oldest Twitte. Leveraging Social Media In Regulated Industries | Social Media E. Logic+Emotion: Is Your Organization An Umbrella or Mixing Bowl? Twitter Blog: The Replies Kerfuffle.
---