Ping.fm 18
10 Rules That Govern Groups PsyBlog. What most groups of people have in common.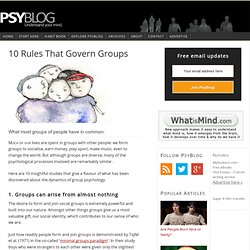 Much of our lives are spent in groups with other people: we form groups to socialise, earn money, play sport, make music, even to change the world. But although groups are diverse, many of the psychological processes involved are remarkably similar. Here are 10 insightful studies that give a flavour of what has been discovered about the dynamics of group psychology. Find Creative Commons images with Image Se. Let's say you're a blogger.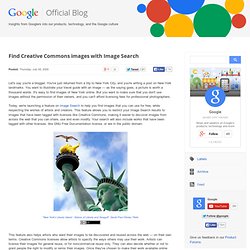 You've just returned from a trip to New York City, and you're writing a post on New York landmarks. You want to illustrate your travel guide with an image — as the saying goes, a picture is worth a thousand words. It's easy to find images of New York online. But you want to make sure that you don't use images without the permission of their owners, and you can't afford licensing fees for professional photographers. Practical Traveler - Having a Travel Problem? Share It on Twitte. IF you're not protesting an election or promoting a product, , the microblogging site that has been getting so much attention these days, can be easy to dismiss.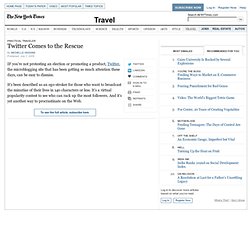 It's been described as an ego-stroker for those who want to broadcast the minutiae of their lives in 140 characters or less. It's a virtual popularity contest to see who can rack up the most followers. And it's yet another way to procrastinate on the Web. Half of Communicators Think Twitter's a Fad. More than half (54%) of professional communicators think Twitter is a fad and believe that the burgeoning number of users and tweets will eventually reach a plateau and likely decline, according to a poll by Ragan Communications and PollStream (via MarketingCharts).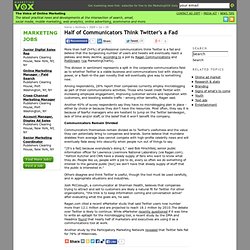 This division in sentiment represents a split in the corporate communications field as to whether Twitter is a viable business and communications tool with staying power, or a flash-in-the pan novelty that will eventually give way to something new. Among respondents, 28% report their companies currently employ microblogging as part of their communications activities. Getting to 'Wow': Consumers Describe What Makes a Grea. Paula Courtney found "wow" when she took her daughter to the employee washroom at her local grocery store.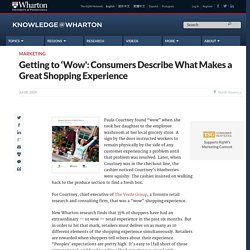 A sign by the door instructed workers to remain physically by the side of any customer experiencing a problem until that problem was resolved. Later, when Courtney was in the checkout line, the cashier noticed Courtney's blueberries were squishy. The cashier insisted on walking back to the produce section to find a fresh box. For Courtney, chief executive of The Verde Group, a Toronto retail research and consulting firm, that was a "wow" shopping experience. Why agencies' social media use doesn't matter - iMedia. Does your ad agency need to have its own regularly updated Twitter account in order to be competent in social media?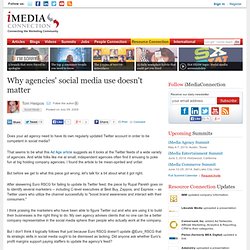 That seems to be what this Ad Age article suggests as it looks at the Twitter feeds of a wide variety of agencies. And while folks like me at small, independent agencies often find it amusing to poke fun at big holding company agencies, I found the article to be mean-spirited and unfair. But before we get to what this piece got wrong, let's talk for a bit about what it got right. After skewering Euro RSCG for failing to update its Twitter feed, the piece by Rupal Parekh goes on to identify several marketers -- including C-level executives at Best Buy, Zappos, and Express -- as Twitter users who utilize the channel successfully to "boost brand awareness and interact with their consumers. " How to Whitelist in Gmail. Gmail has a fantastic built-in spam filter, but no spam filter is absolutely perfect.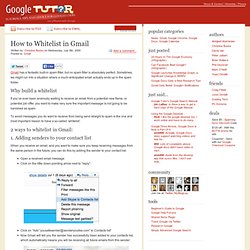 Sometimes, we might run into a situation where a much-anticipated email actually ends up in the spam folder. Why build a whitelist If you've ever been anxiously waiting to receive an email from a potential new flame, or potential job offer, you want to make very sure the important message is not going to be banished as spam. To avoid messages you do want to receive from being send straight to spam is the one and most important reason to have a so-called 'whitelist'. 2 ways to whitelist in Gmail:
Hate Facebook's new look? You'll like it soon enough. Do you hate Facebook's new design?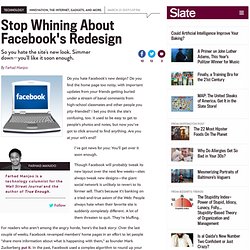 Do you find the home page too noisy, with important updates from your friends getting buried under a stream of banal comments from high-school classmates and other people you pity-friended? I bet you think the site's confusing, too. Strange Attractor Blog Archive Why is social media importan. Posted by Suw Charman-Anderson And another draft section!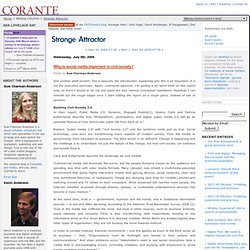 This is basically the introduction, explaining why this is all important. It is not the executive summary. Again, comments welcome. 10 Things We're Dying to Know About Chrome OS. This morning the blogosphere is abuzz with the late-breaking news about Google's new Chrome OS, a combination of the Chrome browser and windowing system running on top of a Linux kernel.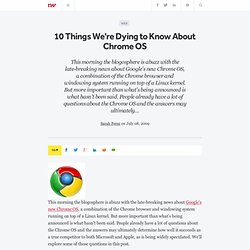 But more important than what's being announced is what hasn't been said. People already have a lot of questions about the Chrome OS and the answers may ultimately determine how well it succeeds as a true competitor to both Microsoft and Apple, as is being widely speculated. We'll explore some of those questions in this post. How to spot a social media snake oil salesman | Blog | Econsulta. It's inevitable: when opportunity pops up on the internet, there are plenty of snake oil salesmen waiting to take advantage of it. The field of SEO provides the perfect example. While there are plenty of reputable guns for hire and firms providing SEO services, there are also plenty of snake oil salesmen promising the moon but delivering a bag full of sand.
Unfortunately, the rise of social media has created another internet opportunity that is ripe for snake oil salesmen. And boy have they taken advantage of it. Facebook does not even makes minimum wage! 25 Incredible TED Talks for Educators - Learn-gasm. By Jill Gordon A non-profit dedicated to bringing "Ideas Worth Sharing" to the world, TED offers some of the best and brightest sharing their perspectives on technology, entertainment, and design.
Many of those who speak at TED discuss topics relevant to education. Does Twitter Deserve a Nobel Peace Prize? Not Yet, But Maybe Som. It's hard to imagine anything more far out than the suggestion that the founders of Twitter be awarded the Nobel Peace Prize, especially since the people who invented the internet never were. But that's what Deputy National Security Advisor, Mark Pfeifle, argues this week in The Christian Science Monitor, because of the company's role in supporting the ongoing uprising in Iran. Pfeifle isn't the only one making this argument, either. MG Siegler found Pfeifle's editorial and reported on it; he seems to think it's funny - and it is. I think the idea is also serious enough, though, to warrant some closer consideration. Google Apps is out of beta (yes, really)
We're often asked why so many Google applications seem to be perpetually in beta. For example, Gmail has worn the beta tag more than five years. We realize this situation puzzles some people, particularly those who subscribe to the traditional definition of "beta" software as not being yet ready for prime time. The 10 Twitter Commandments | Blog. Conceptis addict: Wife Carrying World Championships 2009. Finland put an end to Estonia's 11-year reign and took gold and bronze on Saturday at the annual Wife-Carrying World Championships held in Sonkajärvi, central Finland. Wife carrying (Finnish eukonkanto) is a sport in which male competitors race while each carrying a female team mate. The objective is for the male to carry the female through a special obstacle track in the fastest time. The winner gets the weight of the carried wife in beer.
Several types of carry may be practised: piggyback, fireman's carry (over the shoulder), or Estonian-style (the wife hangs upside-down with her legs around the husband's shoulders, holding onto his waist). More info and the rules you can find here. 5 mistakes to avoid when launching a viral campaign - iMediaConn. Top 20 Countries for SocNet Engagement. Sharing by Twittering - Scout Labs. Maybe Twitter Trends Shouldn't Be Entirely Automated? 20+ Ready to Use Auto Completion Scripts |Dzine Blog. It's Here! iTwitter: The First Twitter App to do Push. BbPress bbPress 1.0 final, finally released.
BlueTunes: Music In The Cloud Comes To Your Desktop. Half of Twitter's Never Tweeted. 3 easy ways to personalize video messages. Restoring accidentally suspended accounts. SUSPENDED. Future Exploration Blog | Top Twitterers: US, Canada, Norway, Au. Business plans, business models. Louisgray.com: TweetDeck Marks One Year Anniversary: The Journey. America's Secret Innovation Weapon: Immigration. Organizations without a 2.0 strategy risk failure. Firefox 3.5 patch coming soon as Mozilla cranks up downloads • T.
Tips for Sorting Through the Social Networks. Ten Companies Twitter Should Consider Acquiring Next. Twitter Needs a Spam Filter? No, We Need a Marketer Filter. Twittering from the tractor: smartphones sprout on the farm - CN. The Value of Twitter Followers: Quality Over Quantity. Rupert Murdoch: Facebook is Just a Directory. iPhone 4.0 OS: event based modes, intellingent and scheduled com. A Growing Acceptance of Social Networking in the Workplace. Faviki's Social Bookmarking Tool Makes Semantic Tagging Eve. In Defense of Social Media (At Least Some Of It) - O'Reilly. Facebook Says It Wants You to Be Less Private - But Why? Facebook for iPhone 3.0 Coming Soon - Preview and Details.
---