Ping.fm 17
Casting a Digital Shadow; Your Reputation Precedes You | PR2.0. InShare1 Credit: Geekadam While speaking at the intimate and immensely valuable Zappos Insights event (Zappos Live), I shared thoughts of how the culture of any company or brand is as strong as the individual personification of it.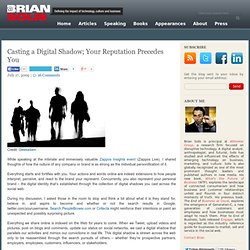 Everything starts and fortifies with you. How newspapers lost the breaking news game to a Twittering 19-ye. Productivity Toolbox: 55 Essential Tips & Tricks | Hi, I&#03. The Future of Search: Social Relevancy Rank. FriendFeed has recently launched a search feature, and so Facebook search must be coming soon.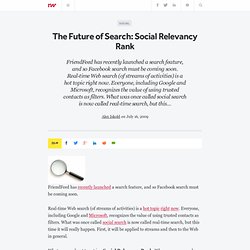 Real-time Web search (of streams of activities) is a hot topic right now. Everyone, including Google and Microsoft, recognizes the value of using trusted contacts as filters. What was once called social search is now called real-time search, but this time it will really happen. First, it will be applied to streams and then to the Web in general. The social media paradox: success & time. | Blog | Econsulta.
Successful social media engagement for online businesses requires a lot of creative thinking, time and effort.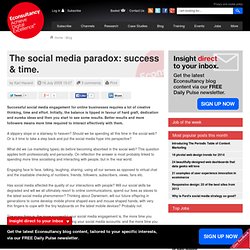 Initially, the balance is tipped in favour of hard graft, dedication and eureka ideas and then you start to see some results. Better results and more followers means more time required to interact effectively with them. A slippery slope or a stairway to heaven? Should we be spending all this time in the social web? Will Twitter Sue TechCrunch? - PC World. Will Twitter take legal action against Web sites that publish the company's confidential documents, which were leaked by a hacker?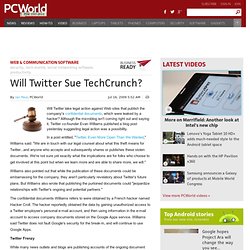 Although the microblog isn't coming right out and saying it, Twitter co-founder Evan Williams published a blog post yesterday suggesting legal action was a possibility. In a post entitled, "Twitter, Even More Open Than We Wanted," Williams said: "We are in touch with our legal counsel about what this theft means for Twitter...and anyone who accepts and subsequently shares or publishes these stolen documents. We're not sure yet exactly what the implications are for folks who choose to get involved at this point but when we learn more and are able to share more, we will.
" Williams also pointed out that while the publication of these documents could be embarrassing for the company, they aren't particularly revelatory about Twitter's future plans. UptownMaker: 18 Essential Skills for a Maker. @AntonOlsen recently posted an article on GeekDad enumerating 100 Essential Skills for Geeks.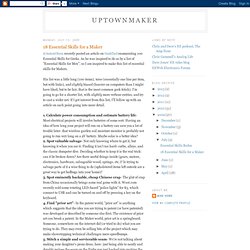 As he was inspired to do so by a list of "Essential Skills for Men", so I am inspired to make this list of essential skills for Makers. His list was a little long (100 items), terse (essentially one line per item, but with links), and slightly biased (heavier on computers than I might have liked, but to be fair, that is the most common geek fetish).
Ideas for Professional Journalists to Prov. If you were a professional journalist and I asked you, "what does mainstream media provide that the crowd can't?"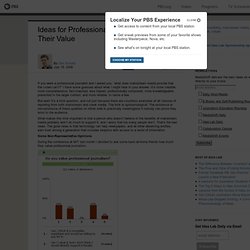 I have some guesses about what I might hear in your answer: It's more credible, more comprehensive, fact-checked, less biased, professionally composed, more knowledgeable, presented in the larger context, and more reliable, to name a few. But wait! It's a trick question, and not just because there are countless examples of all classes of reporting from both mainstream and creek media. When it Comes to Real Time Search, More is Better. Frankensearch (Intelligent Media Search), a real time search collage powered by social media status For regular search, finely sifting and weighting pages based on authority and rank is fine.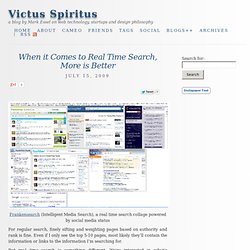 Even if I only see the top 5-10 pages, most likely they'll contain the information or links to the information I'm searching for. But real time search is something different. 4 Easy Steps to a Better iPhone 3GS Unlock: Thanks, Purplesn0w! George Hotz (aka "geohot") recently made a name for himself when he released a software utility called purplera1n that gave Windows users the first usable iPhone 3GS jailbreak.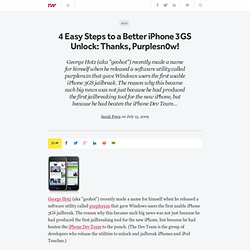 The reason why this became such big news was not just because he had produced the first jailbreaking tool for the new iPhone, but because he had beaten the iPhone Dev Team to the punch. (The Dev Team is the group of developers who release the utilities to unlock and jailbreak iPhones and iPod Touches.) Now it seems Hotz is at it again. Although this time around he's not first, he is claiming that his new software, "purplesn0w," is a better unlocking tool for the iPhone 3GS than what the Dev Team has put out. Google Voice mobile app for Blackberry and. It's been an exciting few months since we announcedGoogle Voice.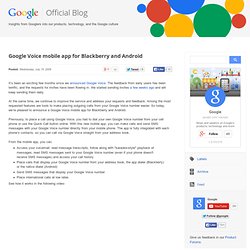 The feedback from early users has been terrific, and the requests for invites have been flowing in. We started sending invites a few weeks ago and will keep sending them daily. At the same time, we continue to improve the service and address your requests and feedback. Charticle: PR and Social Media, a Five Year View - The Steve Rub. Critical JavaScript vulnerability in Firefox 3.5 at Mozilla Se. Issue A bug discovered last week in Firefox 3.5′s Just-in-time (JIT) JavaScript compiler was disclosed publicly yesterday.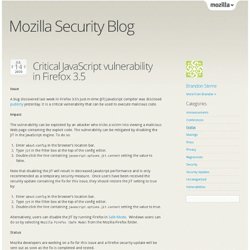 It is a critical vulnerability that can be used to execute malicious code. The growth of twitter (with analysts) Technobabble 2.0. Everyone knows that Twitter is huge. Not a day goes by without another story showing how it saved someone's life, broke a news story first or has fundamentally changed the way we think – its growth and entry into everyday life could justifiably allow its usage to be called (in technobabble bingo) a 'paradigm shift'. The questions I have been debating focus on growth. Putting Your Marketing Budget Where the T. The latest Nielsen Global Online Consumer Survey has been released, and it serves as yet another reminder of just how little consumers trust what brands and marketers tell them.
The report should provide Social Media practitioners with further support for increased spending on Social Media, since it is clear the way for brands to earn trust is to get consumers talking to each other. Just 55 percent of consumers have any degree of trust (defined by Nielsen as respondents indicating they "completely" or "somewhat" trust information) in the emails they sign up for, radio ads, and billboards. A slightly higher percentage--around 60 percent--trust the information they receive from advertising in magazines, in newspapers, and on television. Meet Google, Your Phone Company. [qi:gigaom_icon_voip] Can Google be your phone company? The answer is yes. I came to that conclusion after I met with Vincent Paquet, co-founder of GrandCentral (a company acquired by Google) and now a member of the Google Voice team.
Earlier today he stopped by our office to show the mobile app versions of its Google Voice service for Blackberry and Android. Google recently announced that it was going to make the Voice service widely available to users in the U.S. soon. These mobile versions of the Google Voice service will allow folks to not only manage their Google Voice connections –- to access and playback voice mails, send and receives SMS messages and read message transcripts — but also make local and long distance calls from mobile phones. WhitePages unveils $2.5 million Web site redesign - TechFlash: S.
How Did it Get so Popular? Apple's App Store Hits 1.5 Billi. Earlier today, Apple announced that iPhone and iPod touch users have now downloaded over 1.5 billion applications. According to Apple, there are now also over 100,000 developers in the iPhone Developer Program and over 65,000 apps in the store. The number of actual iPhone developers might be a bit lower than Apple reports, as a lot of people only joined the paid version of the program to get their hands on the betas of the iPhone 3.0 OS, but there can be little doubt that the App store is a runaway success, both for Apple and developers. Given this huge success of the App Store, it is worth thinking about the factors that contributed to the App Store's success and what Apple could do to make the store even better. Facebook At Work: Helpful or a Hazard? Nielsen: Consumers Trust Online Opinions.
Why being an unemployed journalist is the best thing to ever hap. How fast is the blogosphere? | Blog. Check Twitter for Bargains. 9 keys to the perfect corporate blog. Study Measures the Chatter of the News Cycle. Brands beware: Consumers don't trust their social media fri. Seth Godin, Blogger: An Interview. Death by Cliff Plunge, With a Push From Twitter. 6 Cool & Useful Google Chrome Tricks. Bing Community. Steve's IT Rants.
Management By Listening Around. Human-Centered Design Toolkit - Case Studies - IDEO. How to convert clicks into profit - download fr. Getting Started with Web Application Development. Innovate your way through the recession | Blog. Office 2010 features made public via officially unreleased video. Remember Silverlight? Version 3 Launch and Features. Teblog: The truth behind the Google/Microsoft/NHS rumours. Howcast, a Video Start-Up, Charges Into the How-to Web - NYTimes. Why Big Data & Real-Time Web Are Made For Each Other. Real-Time Conversations Hasten Social CRM. The Value of Dynamic Signals. Since When Are Blogs Not Social Media? Why does Sky make it so hard to subscribe online? | Blog | Econ. Beth's Blog: How Nonprofits Can Use Social Media: Geoff Li. Social media's top restaurant players – Nation's Restaur.
---