Philosophy
9 Mind-Bending Epiphanies That Turned My World Upside-Down | Raptitude.com. Over the years I've learned dozens of little tricks and insights for making life more fulfilling.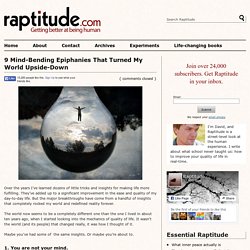 They've added up to a significant improvement in the ease and quality of my day-to-day life. But the major breakthroughs have come from a handful of insights that completely rocked my world and redefined reality forever. The world now seems to be a completely different one than the one I lived in about ten years ago, when I started looking into the mechanics of quality of life. It wasn't the world (and its people) that changed really, it was how I thought of it. Maybe you've had some of the same insights.
Quotes
Essentials of Buddhism - core concepts. Buddhism and Buddhist schools. Taoism. Some paradoxes - an anthology. Confidence | Tiny Buddha - StumbleUpon. Smullyan's Paradox. Big Think. 101 Zen Stories. Enlighten Your Day | Source for Enlightened Art & Thinkers.
---