Philosophy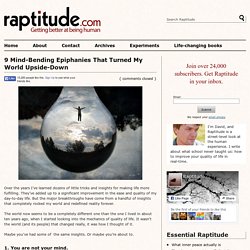 9 Mind-Bending Epiphanies That Turned My World Upside-Down | Raptitude.com
Over the years I've learned dozens of little tricks and insights for making life more fulfilling. They've added up to a significant improvement in the ease and quality of my day-to-day life. But the major breakthroughs have come from a handful of insights that completely rocked my world and redefined reality forever. The world now seems to be a completely different one than the one I lived in about ten years ago, when I started looking into the mechanics of quality of life. It wasn't the world (and its people) that changed really, it was how I thought of it. Maybe you've had some of the same insights.
Essentials of Buddhism - core concepts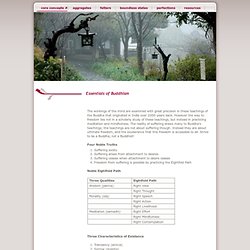 The workings of the mind are examined with great precision in these teachings of the Buddha that originated in India over 2000 years back. However the way to freedom lies not in a scholarly study of these teachings, but instead in practicing meditation and mindfulness. The reality of suffering draws many to Buddha's teachings; the teachings are not about suffering though. Instead they are about ultimate freedom, and the exuberance that this freedom is accessible to all. Strive to be a Buddha, not a Buddhist! Four Noble Truths
Buddhism and Buddhist schools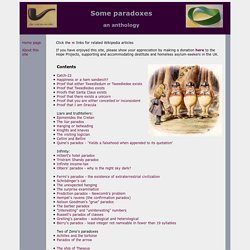 Click the W links for related Wikipedia articles If you have enjoyed this site, please show your appreciation by making a donation here to the Hope Projects, supporting and accommodating destitute and homeless asylum-seekers in the UK. Catch-22
Some paradoxes - an anthology
Confidence | Tiny Buddha - StumbleUpon
Smullyan's Paradox
Big Think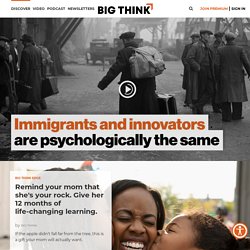 Today's Big Idea We are continually reminded wherever we turn (and by Big Think, perhaps, most frequently of all) of the fact that in technologically advanced nations the pace of life is accelerating. …Economic constraints have put pressure on businesses (and therefore their employees) to do more with less, and in less time.
101 Zen Stories
Enlighten Your Day | Source for Enlightened Art & Thinkers