Space Stuff
yesterday2221's channel
10 game-changing space galaxy discoveries
This site collected goodwill messages from the public for 13 days in August 2009 which were transmitted to Gliese 581d, a planet outside our Solar System which may support life.
HelloFromEarth.net | Gliese 581d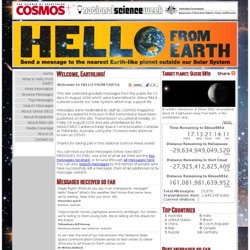 What would you like to say aliens?
This question raised by Australia's Cosmos magazine to its readers in 2009 collected over 25 000 text responses. Then the messages were sent with the help of several space agencies via radio signal to the exoplanet Gliese 581. On website Hello from Earth you can watch the mostly English lyrics that reveal some amusing posts from 'earthpeople'. Fred Mason wants to know, for example, if the aliens are in possession of all his missing socks. Funny ..... by avayaoli May 4
Was würden Sie Außerirdischen gerne sagen? Diese Frage stellte das australische Cosmos-Magazin 2009 seinen Lesern und sammelte danach über 25 000 SMS-Antworten. Anschließend wurden die Nachrichten mit Hilfe mehrerer Weltraumbehörden per Radiosignal an den Exoplaneten Gliese 581 geschickt. Auf der Webseite Hello from Earth kann man sich die zumeist englischen Texte ansehen, die einige amüsante Erdlingsgedanken offenbaren. Fred Mason will zum Beispiel wissen, ob die Außerirdischen im Besitz all seiner verschwundenen Socken sind. by avayaoli May 4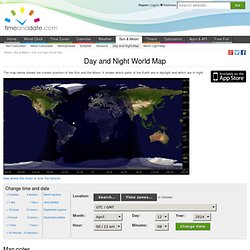 The map below shows the current position of the Sun and the Moon. It shows which parts of the Earth are in daylight and which are in night.
Watch the sun rise and set all over the world on this real-time, computer-generated illustration of the earth's patterns of sunlight and darkness. The clouds are updated daily with current weather satellite imagery. The Mercator projection used here is one way of looking at the spherical earth as a flat map.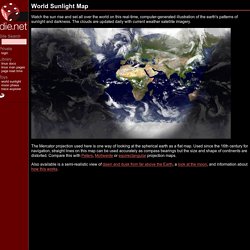 This page provides a set of five synthetic images of the Earth's surface, each from a different perspective, that show the areas in sunlight (day) and darkness (night) at the specified date and time.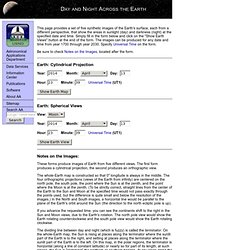 Day and Night Across the Earth
Space Livecast | Erster deutscher Livecast für Raumfahrtevents
ISS in the web with pearltrees