Space Stuff
Yesterday2221's channel. 10 game-changing space galaxy discoveries. HelloFromEarth.net | Gliese 581d. This site collected goodwill messages from the public for 13 days in August 2009 which were transmitted to Gliese 581d, a planet outside our Solar System which may support life.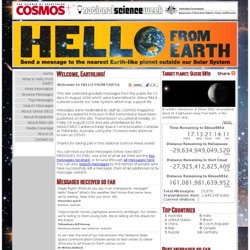 Messages were moderated by staff at COSMOS magazine; those accepted for inclusion in the transmission have been published on this site. Transmission occurred at midday on Friday 28 August 2009 and was undertaken by the NASA/CSIRO Canberra Deep Space Communication Complex at Tidbinbilla, Australia, using the 70-metre main antenna known as DSS43. Thanks for taking part in this National Science Week event! Brian Greene: Why is our universe fine-tuned for life?
Chromoscope - View the Universe in different wavelengths. Bellatrix Orionis - Views from the edge of the Universe | Bellatrix Orionis. Space. Day and Night World Map. +1 this page: Follow us on Google+: Like/share this page: Follow us on facebook: The map below shows the current position of the Sun and the Moon.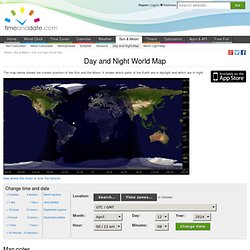 It shows which parts of the Earth are in daylight and which are in night. World Sunlight Map. Watch the sun rise and set all over the world on this real-time, computer-generated illustration of the earth's patterns of sunlight and darkness.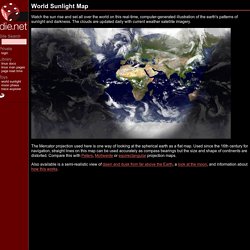 The clouds are updated daily with current weather satellite imagery. The Mercator projection used here is one way of looking at the spherical earth as a flat map. Day and Night Across the Earth. This page provides a set of five synthetic images of the Earth's surface, each from a different perspective, that show the areas in sunlight (day) and darkness (night) at the specified date and time.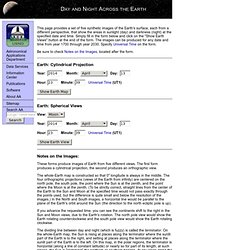 Simply fill in the form below and click on the "Show Earth Views" button at the end of the form. The images can be produced for any date and time from year 1700 through year 2030. Specify Universal Time on the form. Be sure to check Notes on the Images, located after the form. DaylightMap. NASA.
Eyes on the Solar System. The Scale of the Universe. Aviation stuff. Space Livecast | Erster deutscher Livecast für Raumfahrtevents. Amazing universe. ISS in the web with pearltrees.
---