Guitar Effects
Jim Dunlop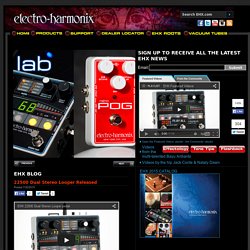 FUZZVILLE takes the new OD Glove through its paces. Young Guitar Upstart Tommy Brendel plays the guitar and sings the original song "Space Rock". Tommy uses an EHX OD Glove overdrive and Slammi pitch sifter pedal.
GuitarEffectsPedals.com - Fastest Shipping and Competitive Prices for Guitar Effects Pedals, Pedal Boards, accessories and more! (guitar pedals, gutiar effects, guitar pedal, guitar fx, effects pedals, effects pedal, effect pedals, guitar effects pedals,
GUITAR EFFECTS
Guitar Effects
Join our mailing list: DigiTech Woah! We are getting reports that the new Bass Whammy is selling-out everywhere! Root Crew get 'em while you can!