Guitar Effects
Jim Dunlop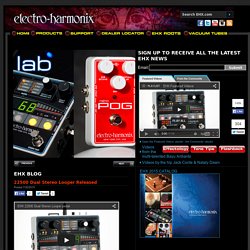 One from the "way back machine," the EH Space Drum. If you visited the Electro-Harmonix Hall of Science on West 48th Street in NYC back in the day, you may of seen the great drummer, Larry Holloway, performing on a kit that included Space Drums. Larry was the EHX house drummer, and if you've heard Marvin Gaye's iconic "Heard it through the Grapevine" that's Larry on drums.
GuitarEffectsPedals.com - Fastest Shipping and Competitive Prices for Guitar Effects Pedals, Pedal Boards, accessories and more! (guitar pedals, gutiar effects, guitar pedal, guitar fx, effects pedals, effects pedal, effect pedals, guitar effects pedals,
GUITAR EFFECTS
Guitar Effects
Join our mailing list: DigiTech Woah! We are getting reports that the new Bass Whammy is selling-out everywhere! Root Crew get 'em while you can!