Music Business
Future of Music - music industry, music business, digital music and free music downloads. Music Conference - Licensing & Rights | Boston - Rethink Music. REPORT: What The Second Decade Of Digital Music Will Look Like [SLIDES] Global marketing and communications giant J.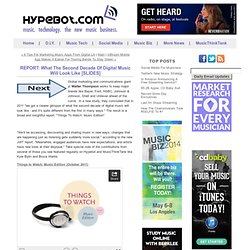 Walter Thompson works to keep major brands like Bayer, Ford, HSBC, Johnson & Johnson, Shell and Unilever ahead of the curve. In a new study, they concluded that in 2011 "we got a clearer glimpse of what the second decade of digital music will look like - and it's quite different from the first in many ways. " The result is a broad and insightful report: "Things To Watch: Music Edition" "We'll be accessing, discovering and sharing music in new ways, changes that are happening just as listening gets suddenly more social," according to the new JWT report. How Do We Benefit From Streaming? Can We?
There's been quite a raging controversy over Spotify over at Hypebot as musicians across the industry chime in with their opinion on the streaming service.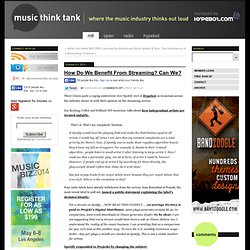 Zoe Keating, Cellist and brilliant DIY musician, talks about how independant artists are treated unfairly. That's it. That's my complaint: fairness. Sean Parker On Spotify, The New Music Business & Why Most Bands Should Never Sign With A Label. One Big Database Could Help Recording Artists Pay Rent. In over a decade of digital music writing, one of my favorite pieces is a Wired.com article called "4 Reasons Music Needs One Big Database."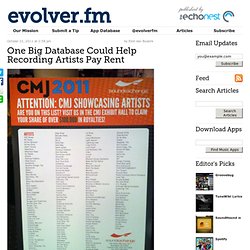 My argument there was that if every song had a unique identifier attached to it — the same identifier, regardless of the service where the song appears — it would solve all sorts of problems for music fans and the industry. One Big Database would not only ease mergers and acquisitions within the digital music industry (see most recently Rhapsody/Napster), make subscriptions portable (and therefore much more attractive), and lead to better APIs and music apps, but it would also make more money for artists when they need it most by adding transparency, accountability, and scaleability to the various ways artists are paid for recorded music. Case in point: the poster pictured above, which I photographed on my way to moderate a panel at the CMJ conference. 4 Ways One Big Database Would Help Music Fans, Industry | Epicenter  MySpace Music's acquisition of imeem revealed, for the umpteenth time, a major problem with the music business — not piracy, nor the ongoing failure of pure-play ad-supported music services, but rather that each digital music service grows in its own data silo.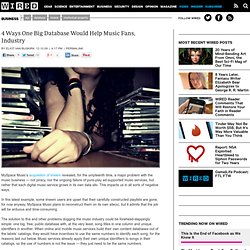 This impacts us in all sorts of negative ways. In this latest example, some imeem users are upset that their carefully constructed playlists are gone, for now anyway. MySpace Music plans to reconstruct them on its own site(s), but it admits that the job will be arduous and time-consuming.
---