Avalonhb
avalonhb
musique guitare lutherie
Origami. 210 Awesome Open Guitar Chords and How to Use Them - A Kings Mercury. Are you bored of the sound of standard chords?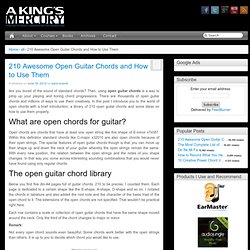 Then, using open guitar chords is a way to pimp up your playing and boring chord progressions. There are thousands of open guitar chords and millions of ways to use them creatively. In this post I introduce you to the world of open chords with a brief introduction, a library of 210 open guitar chords and some ideas on how to use them properly.
Lesson-lecons guit. Etude jazz liens. Guitare software. Guitares galleries. Musique etude avancées. Luthier amateur ( truc et technique ) Guitar. Manouche guitare tablatures echanges. Vidéos Pearltrees. Cours de photographie. Les cours photo de photophiles. Apprendre et comprendre la photographie numérique.
Best of | Apprendre la photo. Devant le nombre d'articles, je sais que certains d'entre vous ne savent plus par où commencer !
Je vous ai donc concocté un des articles essentiels par catégorie. Non pas que les autres soient mauvais , mais si vous ne deviez en lire que quelques uns, ce seraient ceux-là. Si vous n'y êtes pas encore passé, je vous conseille de commencer par la page… Par où commencer ? Dessin.
Liste de livres
Créer un site WEB gratuit. Site web gratuit. Espace. La Toupie - Politique : Alarme citoyens ! Anonymous. ACTA.
---