Research Project Options
Free Royalty Free Music for Education. When creating an audio podcast or a video that uses music tracks, the sure way to avoid any worries about copyright infringement is to use music you created.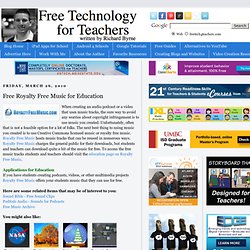 Unfortunately, often that is not a feasible option for a lot of folks. The next best thing to using music you created is to use Creative Commons licensed music or royalty free music. Royalty Free Music hosts music tracks that can be reused in numerous ways. Features.
World Wonders Project. Copyright: Reaching Out to Teachers and Students « Teaching with the Library of Congress. This is a guest post from David Christopher, Chief, Information and Records Division, U.S.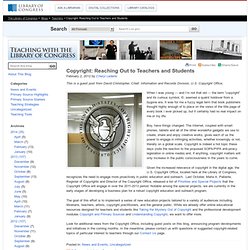 Copyright Office. When I was young — and I'm not that old — the term "copyright" and its curious symbol, ©, seemed a quaint holdover from a bygone era. It was for me a fuzzy legal term that book publishers thought highly enough of to place on the verso of the title page of every book I ever picked up, but it certainly had no real impact on me or my life. Boy, have things changed. Millennium: A Perspectives Series. Direct Me NYC: 1940. PrimaryAccess. PhotoFilmStrip | Reviews for PhotoFilmStrip. T4C Newspaper. Scripts & Storyboards. My Fake Wall - MyFakeWall.com. H1G Notebook.
Infographics & Data Visualizations.
---