Health
Asperger's Syndrome Symptoms in Children, Teens, Adults. Symptoms during adolescent and teen years continued...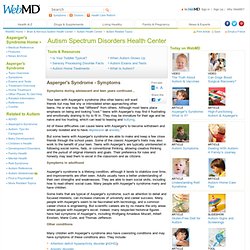 Your teen with Asperger's syndrome (like other teens) will want friends but may feel shy or intimidated when approaching other teens. He or she may feel "different" from others. Although most teens place emphasis on being and looking "cool," teens with Asperger's may find it frustrating and emotionally draining to try to fit in. Hand Expression - Newborn Nursery at LPCH - Stanford University School of Medicine. Symptom Checker. Tell Dr.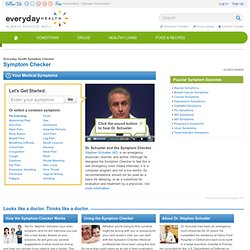 Stephen Schueler your main symptom, and he will interview you just like a real doctor. Based on your answers, he will give you several suggestions of what could be wrong and help you decide if you need to see a doctor. This revolutionary tool is powered by a computer program that provides information about 3,000 symptoms and is used by VA hospitals across the country to assist health professionals in providing care.
---