Lunches
Hamburgers. A couple of months ago, I got a vintage copy of Prudence Penny's Cookbook in the mail.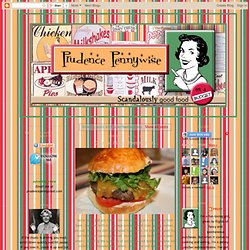 I had never heard of Prudence Penny, but apparently she was a Los Angeles Times food writer who encouraged young housewives to make appealing meals on a budget. The cookbook came to me from Deb in Hawaii, who has a gorgeous blog with stunning recipes and tidbits about life in paradise. Deb had been at a flea market and had noticed the book and immediately bought it and shipped it to me, wrapped in beautiful paper, and complete with beach themed note card. It's readers like Deb that make being Prudence Penny (the only difference is that I have added WISE to my moniker) number 2 worthwhile. Chick-fil-A Bites with Honey Mustard Dipping Sauce. Let me start out by saying that I don't eat fast food like, ever.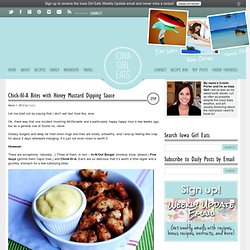 Ok, there was that one incident involving McDonalds and a particularly happy happy hour a few weeks ago, but as a general rule of thumb no, never. Greasy burgers and deep fat fried onion rings and fries are totally unhealthy, and I end up feeling like crap for about 2 days afterward indulging. It's just not even close to worth it. However. Yummy Lunch Ideas - Yummy Lunch Box Gallery - Easy Lunch Boxes, Bento Lunches | SmugMug. Recipe: Blue Bayou Monte Cristo Sandwich. Super Bowl Recipe Week: Mini Corn Dog Muffins. The original Mini Corn Dog Muffins!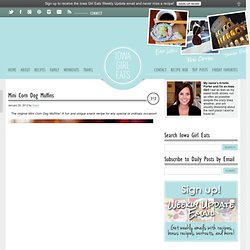 A fun and unique snack recipe for any special or ordinary occasion! Are you ready for some footballllll food?! Lunch Box Idea List | Wendolonia. The same scene plays out every weekday morning in kitchens across the country: a tired parent leans forward with one arm holding the refrigerator door open, eyes scanning the shelves for something to pack into a lunch box.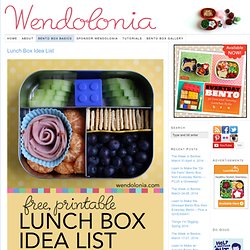 What do we have in the house? What do we have that's healthy? What do we have that he will eat? Monday's lunch. Homemade Corn Dog Bites. Project Lunch Box: Pack Healthy School Lunches for Us & Our Children. Can we do a little project together for the next 30 days?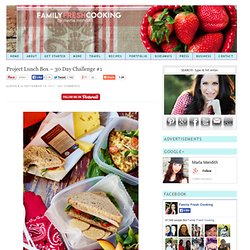 I pitch that we all partner up to pack healthy meals for ourselves (if you eat lunch away from home) and our kids. Are you in? I sure hope so. If you can't swing five days a week for 4 weeks than can you go with at least a day or two a week? I bet once you get started you will see how easy it is to pack a quick, healthy and delicious lunch box. Orlando Restaurant Appetizers. Apple Sandwiches. Nutritional Info: Per Serving:300 calories (150 from fat), 16g total fat, 4.5g saturated fat, 0mg cholesterol, 115mg sodium, 36g carbohydrate (6g dietary fiber, 25g sugar), 8g protein Special Diets: Note: We've provided special diet and nutritional information for educational purposes.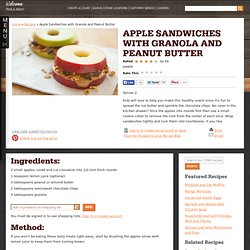 But remember — we're cooks, not doctors! Yummy Lunch Ideas - Yummy Lunch Box Gallery - Easy Lunch Boxes, Bento Lunches | SmugMug. School Lunch Roundup! I've been sharing my kids' school lunches on facebook quite frequently this year, and in an effort to put all those pictures in one easy-to-reference place they have all been reposted below.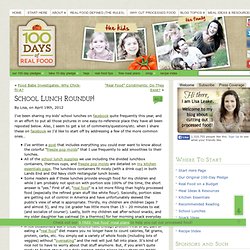 Also, I seem to get a lot of comments/questions/etc. when I share these on facebook so I'd like to start off by addressing a few of the more common ones… I've written a post that includes everything you could ever want to know about the colorful "freezie pop molds" that I use frequently to add smoothies to their lunches.All of the school lunch supplies we use including the divided lunchbox containers, thermos cups, and freezie pop molds are detailed on my kitchen essentials page.
---