Etiquette
Homemade S'mores | Iron Whisk
Well, it's officially fall.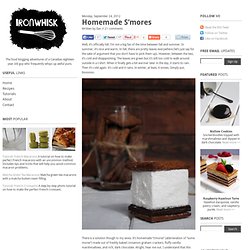 FOOD / Farmer's Casserole 6 c. frozen shredded hash browns 1 1/2 c.shredded Cheddar cheese 2 cups diced cooked ham 1/2 c. sliced green onions 8 large beaten eggs Two 12-ounce c. evaporated milk 1/4 t.salt 1/4 t.pepper Arrange potatoes evenly in the bottom
Free Coloring Pages Daily To Print Daily Coloring Pages
Animal Alphabet Letters to Print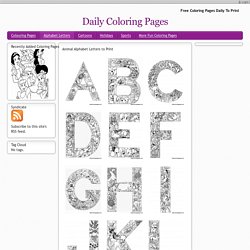 Recipes / DIY bronzer: mix cornstarch, cinnamon, cocoa, and nutmeg until desired shade. Natural and great for your skin.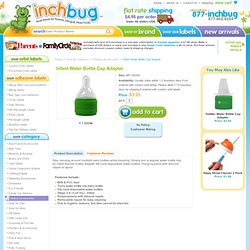 Stop carrying around multiple baby bottles while traveling.
Offering Orbit labels, Adhesive labels & other must-have products for parents. Unique. Practical.
Thankful Rolls
Last year I saw this really cute idea for "Thankful Rolls" over at the Idea Room and made these rolls for our Thanksgiving dinner. You can liven up your Thanksgiving table conversation with these creative rolls that have a personalized message inside…kind of like a fortune cookie. It makes it really interesting when you include your guest's names in the messages.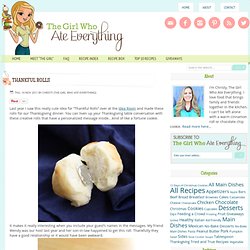 Wedding / The Dreamer: Pink Lemonade, Coconut Rum, Cool Whip
Kiddos / Melt down crayon pieces and pour into glue stick containers to harden. Big crayons that can be rolled up as they are used. Dang! That is UBER creative.
Aqua Doula Water Birth Tub - 3 Week Rental: Baby
Little Bit Funky: 20 minute crafter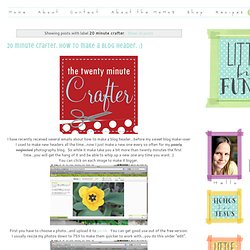 I have recently received several emails about how to make a blog header...before my sweet blog make-over I used to make new headers all the time...now I just make a new one every so often for my poorly neglected photography blog.
How to Get Grease Stains Out of Clothes That Have Already Been Washed
Last weekend I stopped in to visit a friend who was brewing hot apple cider, which was spreading the coziest, loveliest scent all over her apartment. The perfect blend of spicy and sweet, it made her house feel so warm and festive, and instantly made me excited about the season ahead and holing up indoors with good friends and family.
5 awesomely autumnal simmer pot recipes to get you in the mood for fall | Haven
I love wearing flip-flops as the weather warms, but find my feet are happier with more arch support than most thongs usually offer. Enter the Abeo Balboa Sandal ($85). The sole is thick enough to provide cushioning and the tread means you won't slip, but the true comfort comes from the built-in arch support. Designed to balance weight distribution, increase stability, and reduce stress on joints, the Balboa carries the seal of acceptance from the American Podiatric Medical Association. Finally, the convenience of a flip-flop minus the pain caused by a completely flat shoe.
Best Fitness Gear For May 2012 Photo 3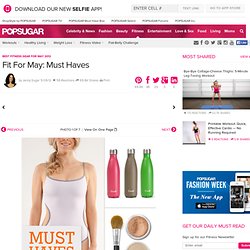 This is rash number 7 in the quiz below.
Tips to Recognize Common Fever and Rashes in Children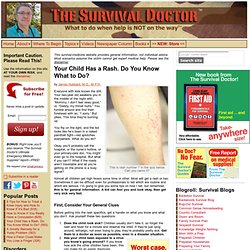 Borrow books, specifically borrow kids books.
Print-a-Palooza: a Free Printable Linkup | iHomeschoolNetwork
I have received nearly a hundred emails over the last couple of years from sewers and quilters asking where I get my labels.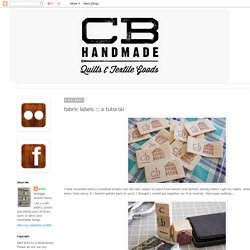 fabric labels :: a tutorial
Cooking / "People will swear these are from a fancy bakery," says Atlas of this tempting shortcut. To follow her lead: Use a serrated knife to cut the crust off a pound cake, then slice the cake into one-inch squares. Place them on a cooling rack with par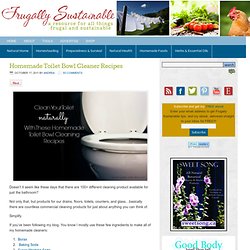 Doesn't it seem like these days that there are 100+ different cleaning product available for just the bathroom? Not only that, but products for our drains, floors, toilets, counters, and glass…basically there are countless commercial cleaning products for just about anything you can think of.
Homemade Toilet Bowl Cleaner Recipes
Nutella Truffles: For When You Tire of Spoons | Pepper.ph
Medicinal Herbs Plants Uses
Holiday / Halloween! Dip the pretzel rods in white chocolate dyed green and add a sliced almond fingernail. Use a toothpick to add the knuckles. MONSTER FINGERS YES.
Want to make an iPhone ringtone with your own music? Just follow the step-by-step instructions below.
Had a long day at work?
Soaking Feet in Vinegar
A trip to Petco left me astonished at the price of leashes and collars!
DIY dog collar and leash
25 Rules for Mothers of Boys
Cinnamon Bird Ornament - Martha Stewart Holiday & Seasonal Crafts
Welcome to tlsbooks.com, where you'll find a variety of free kindergarten worksheets for home and school use. Our kindergarten worksheets are intended to enhance your child's skills and introduce new concepts in a fun, stress-free manner. Depending on your child's abilities, you may wish to review our preschool and first grade worksheets for additional practice.
Free printable kindergarten worksheets to help prepare your child for first grade.
Animated Educational Site for Kids - Science, Social Studies, English, Math, Arts & Music, Health, and Technology
A twist on teaching the 5 senses - Passport Academy
Homemade bagel recipe. Make great handrolled water bagels, it's as easy as baking a loaf of bread!
with Memory
Hawaiian Rolls
Crock Pot Beef and Broccoli
diaper pouch tutorial
Preschool Social Language Therapy By Tina K. Veale
Absolutely Free Legal Documents and Free Legal Contracts to download
So, How's It Taste? » Salted Whiskey Caramels
Crafts/DIY / Pinterest Party - they all made a food they found on pinterest and brought it to share and then hung out and made two crafts from pinterest! I totally want to throw this kind of party!
Preschool At Home: Fridge Skeleton and Learning About the Human Body
creamy mints
Wedding Planning Worksheets
Wedding Worksheets, Brides Name and Address Change Worksheet
Wedding Worksheets, Brides Attendants Worksheet
Wedding Worksheets, Bridal Attendants Information Worksheet
Wedding Worksheets, Bridal Attire Worksheet
Wedding Worksheets, Bridal Attire Shopping Worksheet
Wedding Worksheets, Bridal Attire Information Worksheet Worksheet
Wedding Worksheets, ATTENDANTS' SIZES AND MEASUREMENTS
Wedding Worksheets, Appointment Schedules Worksheet
Your Cup of Cake - Lizzy Early
5 Solutions for Natural Flea Control
Black Bamboo Trees | Black Bamboo for Sale for Sale
Baby sign language tools | TinyTalk
Baby Classes Links | TinyTalk
unnamed pearl
My baby fusses or cries during nursing – what's the problem?
Fabric Remnants - Very Baby
My Mix of Six
Buy Gro-clock from Canada at Well.ca - Free Shipping
Because I Am A Mom – Paper Coterie
Ingenious Inkling: Magnet Mania Tutorial
How to turn handwritten recipes into tea towels - Spoonflower blog
Baby's Own Footprint Necklace
Storage Geek
Masterlock Vault Electronic Padlock at werd
MamaRoo Work at Home Resources
Jack in the Box - Coupon - Happy Birthday from Jack in the Box
Build a Camp Loft Bed with Stair, Junior Height
How to Bless Your Young Adult Children — MomLife Today
Homemade Lotion Bars and Lip Balm | my yellow umbrella
10 Steps to Teaching Your Child to Read - I Can Teach My Child!
How do I stay organized? Let me count the ways...
Learning to Sew is for Boys - Royal Baloo | Royal Baloo
Every Lined Paper Under the Sun! | Paging Supermom
Mrs. Floyd's Divinity Recipe
Mama's Divinity
Handy Ideas / Two handy screwdrivers slip onto your key ring. Definitely getting these for all of the guys' stockings this Christmas!
Everything You Need to Know to Start Montessori-ing at Home
I Got Dressed All By Myself: Organizing Your Child's Closet to Promote Independence
On Becoming Baby Wise: The Classic Sleep Reference Guide Used by Over 1,000,000 Parents Worldwide (9780971453203): Gary Ezzo, Robert Bucknam
DIY Duvet Cover Tutorial
The Best Burp Cloths
Kidz / you can print a THREE foot by FOUR foot photo at Staples for $5.00!!! I did it online and they are called engineering prints. Its just printed on bond paper,not photo paper, but its so cool looking. I sent my photo online and it was ready to pick u
Easy Craft Clay
More Like Home: Salt Dough Gift Tags
The laws of etiquette;<blockquote>Table of Contents</blockquote>
The National League of Junior Cotillions