USA oldtimers USA
Deals On Wheels - Buy and sell salvaged and used vehicles, parts and vehicle dealers.
Sports Cars, Classic Cars, Classifieds, Antique Cars, All Things Automotive!
Classic Cars for sale & Classifieds - Buy Sell Classic Car & Classic Truck Classifieds.
Buying or selling Motorcar Portfolio, LLC., located in the McKinley Grand Hotel in downtown Canton Ohio, can help you. Motorcar Portfolio, LLC. offers you unique classic automobiles at excellent prices. All of our vehicles have been evaluated by our staff for the best possible outcome. Over fifty years of combined experience allows us to select the best vehicles, assuring appreciation and protects your investment. Search our inventory for the automobile you've been searching for.
Motorcar Portfolio: Classic Appreciation - Motorcar Portfolio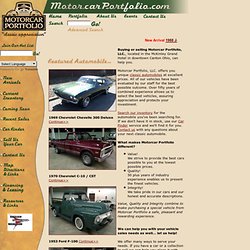 American Dream Cars Collector Cars for Sale, Free Color Picture Ads for Collector Cars
Used Cars for Sale by Owner – Car Classifieds - Muscle Cars for Sale
Classic Car Mall -- Your Classic Car Resource on the Internet! Cars For Sale, Wanted to Buy, Car Shows and More!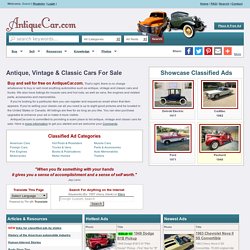 The Brass Car Era: The Brass Car Era started in about 1890 at the beginning of the automobile industry and lasted until about 1919. 'Brass cars' were driven by steam engines with bright brass fittings and were commonly referred to as 'horseless carriages'.
Antique cars, Vintage cars and Classic cars for sale
Country Classic Cars >USA