Verdwenen Italiaanse automerken
Get flash to fully experience Pearltrees
In the mid 1980s, Giorgio Moroder and sports car specialist Claudio Zampolli decided they wanted to build something truly unique. Their vision was of the ultimate super-luxury, super-performance sports car. This car borrowed from the realm of rich mens daydreams would offer everything the wealthiest might want in such a vehicle-bold innovative styling, custom manufacturing, greatly enhanced performance, and infinite luxury. Combining their names (Cizeta is Italian for C.Z., Zampollis initials), the two men decided to refer to their supercar as the Cizeta-Moroder. To create a look worthy of such a supercar, Moroder and Zampolli turned to Marcello Gandini. This accomplished sports car designer had become famous by producing the styling of many Lamborghinis such the Countach and the Lancia Stratos.
Named after its oddball drivetrain, this supercar takes the Miura concept one step further by using a transverse V16 engine mated to a longitudinal gearbox that together forms the shape of a T. Claudio Zampolli first envisioned Cizeta in the mid-eighties and had his fully functioning prototype ready in 1988. The final result looked like a Diablo in the rough, but that's because it was the work of Marcello Gandini for Lamboghini. Upon receiving Gandini's design for their Countach replacement, Lamborghini took the concept and altered it heavily, including the removal of his signature notched rear-wheel arches. Frustrated with Lamborghini, Gandini then turned to Cizeta who offered to keep his original flavor.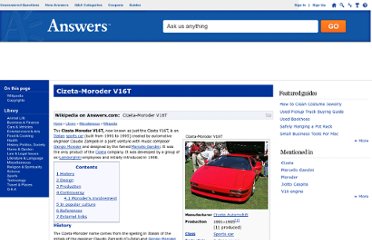 The Cizeta-Moroder V16T , now known as just the Cizeta V16T, is an Italian sports car (built from 1991 to 1995) created by automotive engineer Claudio Zampolli in a joint venture with music composer Giorgio Moroder and designed by the famed Marcello Gandini . It was the only product of the Cizeta company. It was developed by a group of ex- Lamborghini employees and initially introduced in 1988.
Ghia 450 Ghia is een designbureau en producent van autocarrosserieën uit Turijn en is tegenwoordig een onderdeel van de Ford Motor Company . In 1918 richtte Giacinto Ghia samen met zijn partner Gariglio het bedrijf Ghia & Gariglio op. Ghia bouwde snel een reputatie op met zijn ontwerpen en het bouwen van carrosserieën voor privépersonen.
Dit is 'm. In het echt. Driedimensionaal. Ware grootte. Aanraakbaar.
The 1966 Ghia 450 SS was an example of the successful collaborations between Chrysler Corporation and Ghia of Turin. Classic Cars Image Gallery During the 1950s and 1960s, Chrysler often contracted with Ghia for design and/or manufacture of its custom show cars, so it was only fitting that the famous Italian coach-builder commonly looked to Chrysler for engines to power its own creations. A well-known example was the 1956-1963 Dual-Ghia, a car coveted by movie stars in the 1950s.