Adventure
Episode 1: The Most Haunted Prison in America | Watch the video - Yahoo! Screen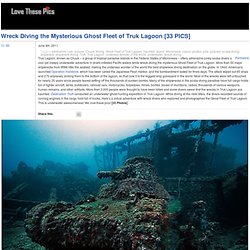 Diver gh0stdot captured amazing underwater images in the ghostly wreckage. This is a light tank on the deck of the San Francisco Maru at about 50m depth in Truk Lagoon. Photo #1 by © gh0stdot Let's back up and show you where you are with an aerial shot taken while flying over Chuuk in south western part of the Pacific Ocean. Chuuk is the new name for an island group which formerly were known separately as Truk, Ruk, Hogoleu, Torres, Ugulat, and Lugulus.
Wreck Diving the Mysterious Ghost Fleet of Truk Lagoon [33 PICS]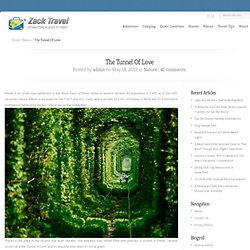 The Tunnel Of Love | Travel Blog Direction & Places to Visit
Klevan is an urban-type settlement in the Rivne Raion of Rivne Oblast in western Ukraine. Its population is 7,470 as of the 2001 Ukrainian Census. Klevan is accessed via the T1B17 and H22 roads, and is located 28.3 km northwest of Rivne and 50.4 kilometres southeast of Lutsk along the H22. Klevan lies on the Stubla River. There's a real place in the Ukraine that looks like this. This beautiful train tunnel filled with greenery is located in Kleven, Ukraine.
10 Places Begging To Be Investigated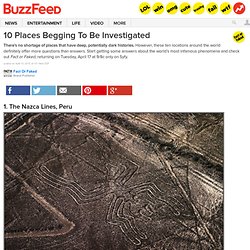 1. The Nazca Lines, Peru Created thousands of years ago, the "Nazca lines" are a series of gigantic figures sketched across the desert sands in Peru. They were made by scraping red pebbles against the ground, revealing a lighter-colored sand beneath. Other than the method of their creation, however, no-one knows the figures' meaning. In fact, they were not discovered until the 1930s, when pilots and passengers noticed them.
1,200-year-old village with 17 residents - Lifestyle News - SINA English - StumbleUpon
2011-10-21 17:35:39 GMT2011-10-22 01:35:39(Beijing Time) China Daily A village in Mengxian county, Yangquan city of North China's Shanxi province, has just 17 residents. The village is called Dapin by local residents. [Photo/CFP]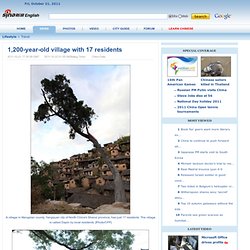 Located within the Huilo Huilo Private Natural Reserve,Chile, the hotel is nestled among the natural world. The Magic Mountain Hotel in the heart of the Huilo Huilo nature reserve. The architecture, combined with the forest setting, makes this truly a magical mountain.This hotel was made to look just like a volcano on the outside and has a waterfall which cascades down its windows and rocky walls.
Magic Mountain Hotel - StumbleUpon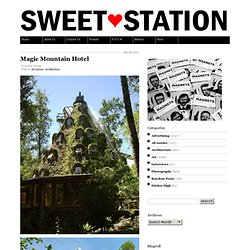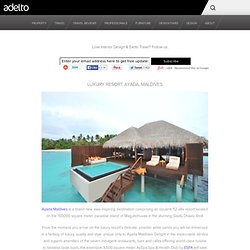 Luxury Resort Ayada, Maldives & Luxury Furniture, Property, Travel & Interior Design | Adelto - StumbleUpon
Luxury Resort Ayada, Maldives Ayada Maldives is a brand new awe-inspiring destination comprising an opulent 112 villa resort located on the 150,000 square meter paradise island of Maguhdhuvaa in the stunning Gaafu Dhaalu Atoll. From the moment you arrive on the luxury resort's delicate, powder white sands you will be immersed in a fantasy of luxury, quality and style unique only to Ayada Maldives. Delight in the impeccable service and superb amenities of the seven indulgent restaurants, bars and cafes offering world-class cuisine to tantalise taste buds, the extensive 3,500 square meter AySpa Spa & Health Club by ESPA will take you to a blissful level of relaxation.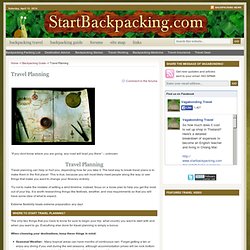 "If you dont know where you are going, any road will lead you there" – unknown Travel planning can help or hurt you, depending how far you take it. The best way to break travel plans is to make them in the first place! This is true, because you will most likely meet people along the way or see things that make you want to change your itinerary entirely.
Travel Planning - Tips for Planning Your Trip | Backpacking Travel
It doesn't matter whether or not you believe in ghosts, there are some places in which none of us would want to spend a night. These places have well earned their reputations as being so creepy, tragic or mysterious (or all three) that they definitely qualify as "haunted." Places like...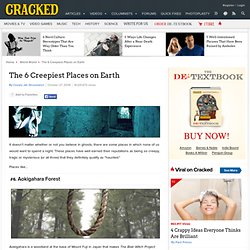 The 6 Creepiest Places on Earth
mental_floss Blog & The Haunted Hospital
Waverly Hills Sanatorium has been a TB hospital, a nursing home, a failed religious monument, and now a paranormal investigation site. Waverly Hills Sanatorium in Louisville, Kentucky opened in 1910 to treat tuberculosis patients. In 1911, the new City Hospital relocated all of their TB cases to Waverly Hills, which had erected tents on the grounds to accomodate the overflow.