Written Word Only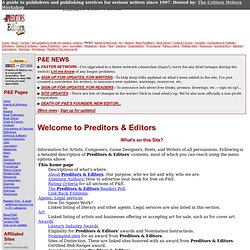 A guide to publishers and publishing services for serious writers since 1997. Hosted by: The Critters Writers Workshop Agents & Attorneys * Art * Awards * Book Publishers * Book Stores * Chats & ForumsContests * Conventions & Festivals * Definitions * Editing & Software * EmailGame Publishers * Jobs * Journalism * Magazines * Music * NewOpinions * Organizations * Promotional * Rating Criteria * Related Sites * ResourcesScreenwriters * Signings * Submissions * Warnings * Workshops Jan. 2014: It is with great sadness that I have to report the untimely passing of Dave Kuzminski, the founder of Preditors & Editors. The site has been dormant for some time as a result. In order to prevent the loss of P&E as well, his family has transfered the site to me, Andrew Burt (founder of the Critters Writers' Workshop, I worked with Dave since the 90s as votemaster of the P&E Annual Readers' Poll, etc.).
The Office of Letters and Light | Home
Long Story Short, an ezine for the advancement of writers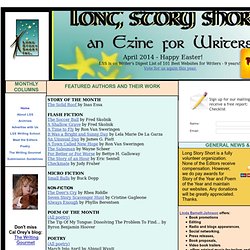 Don't miss Cal Orey's blog: The Writing Gourmet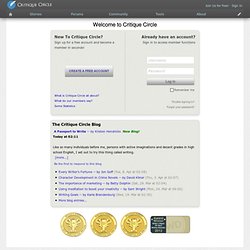 Fiery Furnace of Fun.... It's exactly how the title says. Loads of fun, bundle of laughs, and a place to put your stories, and give/receive crits for your work. Everyone is super kind and will always take pleasure in reading your work and critting it for you.
Critique Circle Online Writing Workshop
(WPF) • Index page
It is currently Sat Apr 12, 2014 6:23 pm View unanswered posts • View active topics Intuitive Healing This forum is for TESTING features before posting your work. PRACTICE here. Doodle to your heart's content.