Achats Groupés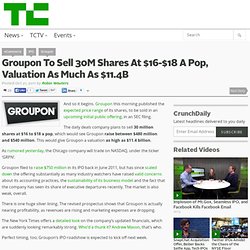 And so it begins. Groupon this morning published the expected price range of its shares, to be sold in an upcoming initial public offering , in an SEC filing.
Groupon To Sell 30M Shares At $16-$18 A Pop, Valuation As Much As $11.4B
Groupon's Mason Tells Troops in Feisty Internal Memo: "It Looks Good." - Kara Swisher - Commerce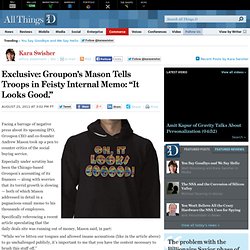 Facing a barrage of negative press about its upcoming IPO, Groupon CEO and co-founder Andrew Mason took up a pen to counter critics of the social buying service.
Groupon clarifie ses comptes avant d'entrer en Bourse
Voici un composant très complet et accessible vous permettant de créer votre site Internet de couponning (site du type groupon) avec le CMS Joomla !
Créez votre site Groupon sous Joomla! 1.6 avec EnMasse | Creation site Internet et logiciel, web agency Lyon – Blog AVANIM
Groupon minimise une mesure comptable controversée avant d'entrer en Bourse (AFP) – 10 août 2011
Groupon minimise une mesure comptable controversée avant d'entrer en Bourse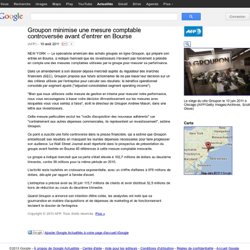 GROUPON SURVEY RESULTS: More Than 50% Of Groupon's Business Customers Do Not Want To Issue Groupons Again
Internal LivingSocial Survey: Vast Majority Of Businesses Profit Or Break Even On Daily Deals
Foursquare va vendre les Daily Deals de Groupon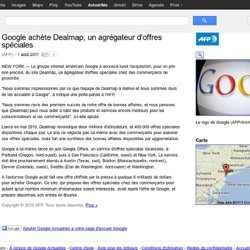 Google achète Dealmap, un agrégateur d'offres spéciales
Google achète Dealmap, un agrégateur d'offres spéciales
Local
Achat groupé
CHART OF THE DAY: Why People Still Subscribe To Newspapers