iOS Dev
Multitasking in iOS 7 - iOS 7 - objc.io issue #5. Prior to iOS 7, developers were pretty limited in what they could do when their apps left the foreground.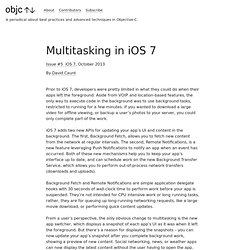 Aside from VOIP and location-based features, the only way to execute code in the background was to use background tasks, restricted to running for a few minutes. If you wanted to download a large video for offline viewing, or backup a user's photos to your server, you could only complete part of the work. iOS 7 adds two new APIs for updating your app's UI and content in the background. NSURLCredentialStorage logged screen. How we fixed the iOS7 forced logout bug that's been plaguing so many apps | Loom. We have some innovative and hardworking engineers here at Loom, so we thought we should have them write a few technical posts now and then to show people what they've been working on.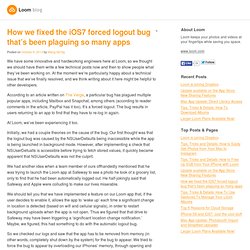 At the moment we're particularly happy about a technical issue that we've finally resolved, and we think writing about it here might be helpful to other developers. According to an article written on The Verge, a particular bug has plagued multiple popular apps, including Mailbox and Snapchat, among others (according to reader comments in the article, PayPal has it too). It's a forced logout.
Libraries - iOS dev
APIs - iOS dev. Cocoa - iOS dev. Objective C - iOS dev. XCode - iOS dev. General - iOS dev. Design - iOS dev. My projects - iOS dev.
---