Area of interest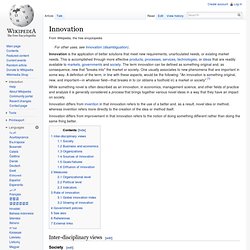 Innovation is the development of new values through solutions that meet new requirements, inarticulate needs, or old customer and market needs in value adding new ways. This is accomplished through more effective products , processes , services , technologies , or ideas that are readily available to markets , governments , and society . Innovation differs from invention in that innovation refers to the use of a better and, as a result, novel idea or method, whereas invention refers more directly to the creation of the idea or method itself. Innovation differs from improvement in that innovation refers to the notion of doing something different rather than doing the same thing better. [ edit ] Etymology
Innovation
An economy consists of the economic system of a country or other area; the labor , capital , and land resources ; and the manufacturing , production , trade , distribution , and consumption of goods and services of that area. A given economy is the result of a process that involves its technological evolution , history and social organization , as well as its geography , natural resource endowment, and ecology , as main factors. These factors give context, content, and set the conditions and parameters in which an economy functions. A market-based economy may be described as a spatially limited social network where goods and services are freely produced and exchanged according to demand and supply between participants (economic agents) by barter or a medium of exchange with a credit or debit value accepted within the network.
Economy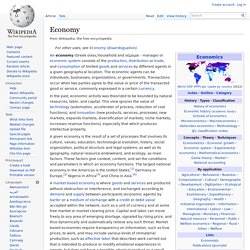 A social network is a social structure made up of a set of actors (such as individuals or organizations) and a complex set of the dyadic ties between these actors. The social network perspective provides a clear way of analyzing the structure of whole social entities. [ 1 ] The study of these structures uses social network analysis to identify local and global patterns, locate influential entities, and examine network dynamics. Social networks and the analysis of them is an inherently interdisciplinary academic field which emerged from social psychology , sociology , statistics , and graph theory .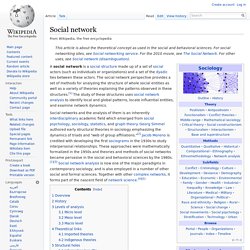 Research and development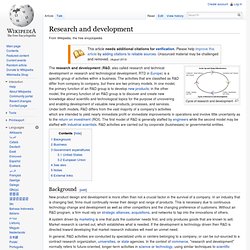 Cycle of research and development The term R&D or research and development (or RnD especially in domain names; or Research and Technical Development ; or Research and Technological Development or RTD in Europe) refers to a specific group of activities within a business. The activities that are classified as R&D differ from company to company, but there are two primary models.