Literature
Poetry of Komitas - StumbleUpon. As a creative individual, Komitas tested his abilities in the field of poetry, have left marvelous poems.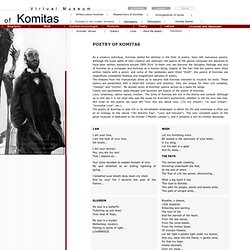 Although the exact dates of their creation are unknown, the poems of the genius composer are assumed to have been written sometime around 1905-1914. In them one can discover the thoughts, feelings and soul of Komitas as a composer and Komitas as a human being. Inspite of the fact that the poems were often written hastily with a pencil, and some of the notebooks were titled "Draft", the poems of Komitas are respectfully considered flawless and magnificent samples of poetry. The khazzes from the manuscripts allow us to assume that Komitas intended to vocalize his texts. These poems are penetrated with a heart-felt concern and sincerity; they are unique for their rich syllables, "melody" and "rhythm". I carry your heart - StumbleUpon. Poetry 180 - Tuesday 9:00 AM - StumbleUpon. In this poem, disaster strangely invades the ordinary.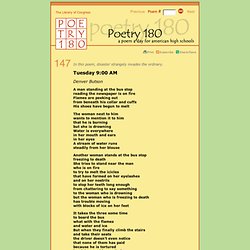 A man standing at the bus stop reading the newspaper is on fire Flames are peeking out from beneath his collar and cuffs His shoes have begun to melt The woman next to him wants to mention it to him that he is burning but she is drowning Water is everywhere in her mouth and ears in her eyes A stream of water runs steadily from her blouse Another woman stands at the bus stop freezing to death She tries to stand near the man who is on fire to try to melt the icicles that have formed on her eyelashes and on her nostrils to stop her teeth long enough from chattering to say something to the woman who is drowning but the woman who is freezing to death has trouble moving with blocks of ice on her feet.
---