PARTY
saucy's sprinkles (bloggedy blog blog): {simply} sweet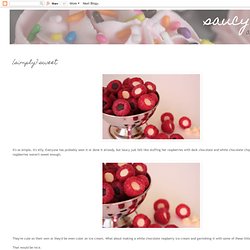 It's so simple, it's silly. Everyone has probably seen it or done it already, but Saucy just felt like stuffing her raspberries with dark chocolate and white chocolate chips today. As if the raspberries weren't sweet enough. They're cute on their own or they'd be even cuter on ice cream. What about making a white chocolate raspberry ice cream and garnishing it with some of these little fellas?
For Easter I made papier-mache polka dotted eggs. I created them using small water balloons and tissue paper then I filled them with candy and toys and sealed them shut. The egg can hold a surprising amount of candy and the tissue paper seems delicate making for a delightfully heavy and yet fragile object, much like real egg. Also like a real egg you have to break the shell to get at what's inside. I like things you have to destroy to open.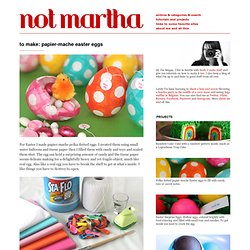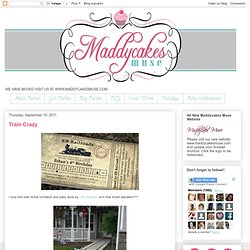 I love this train ticket invitation and party done by Life Inspired. Isn't that ticket adorable??? My all time favorite is this train track using duct tape! How creative and an inexpensive decor idea! Complete with railroad sign on door!
Train Crazy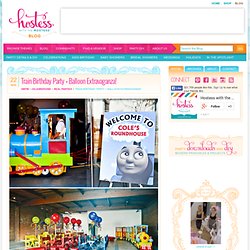 Train Birthday Party + Balloon Extravaganza!
Inspired by her son's love for trains, Jaime from YourBASH! created one super fun RIDE for his birthday celebration this year… and for all of his pint-sized PARTY TRAIN passengers too! In addition to taking a ride on the adorable "Mini Express", guests got to "stop" at fun Temporary Tattoo and "Make a Balloon" STATIONS. And speaking of balloons, there's some seriously crazy-cool balloon art going on at this party… from the balloon artist's creations to the fabulous giant balloon centerpieces, which really helped to fill the space and create a playful, kid-friendly vibe. Other favorite details include the train-shaped lollipop favors, napkin rolls embellished with "Chew Chew" printables, and water bottles labeled "Chugga Chugga"! I also love how the carnival-inspired food stations were lined up in a manner to look like a train… very clever!
Owen's Hot Air Balloon Birthday Party
DIY Cookie Treats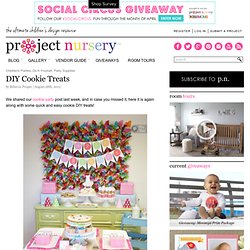 We shared our cookie party post last week, and in case you missed it, here it is again along with some quick and easy cookie DIY treats! What's a party without yummy treats? With the help of some fabulous refrigerated cookie dough, we made a bunch of delicious cookie creations! First up, mini cookie cups.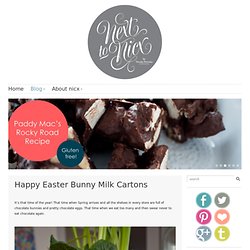 One of my all time favourite wardrobe items is a silk and cashmere cardigan by Alana Hill that I've owned for about 7 years (bought when Alana Hill still made luxurious garments and not the disappointing polyester items you find now). I've worn it until it's almost falling apart. My favourite part of it?
Tutorial | next to nicx
Aug 15 by Jenny Batt Geometrics aren't going anywhere soon, why not include them in your party decor? I saw a tissue paper lantern in a vintage party book and it looks so current in monochromatic hues.
DIY Geometric Lanterns
DIY Tutorial: Pretty Receipt Paper Streamers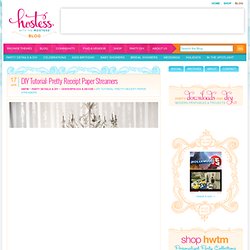 Remember this adorable Aqua & Lace Party from our Party of 5 Post a couple weeks back? Well Anastasia also created a DIY Tutorial on how to make her beautiful and super budget-friendly backdrop! Can you believe it was created from rolls of office supply receipt paper? Pretty clever, right!
Rockin' Valentine's Day Cards
Here at the Okui household it's all about the video game Rock Band 2. My son particularly is obsessed with the game. I find him making microphones and singing E-Pro.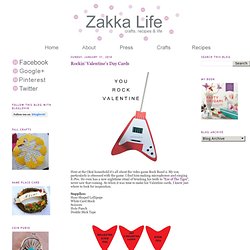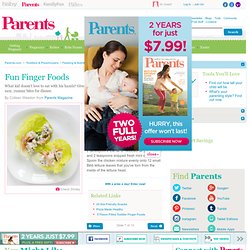 Cheesy Bruschetta Slice a 1/2-pound whole-grain baguette into 16 pieces and arrange them on a baking sheet. Bake at 450 degrees F. for 6 to 8 minutes or until just toasted, turning once.
Fun Finger Foods
Popcorn
Wedding Decor - Style & Bride
Balloon Pops Turn basic balloons into freestanding lollipops. Wrap them in cellophane and add a wrapping paper tube stick, then position them around the room. What you'll need Large foam brush, white acrylic paint, wrapping-paper tubes, balloons, ribbon, 2-oz. paint or glue bottles, tape, cellophane, scissors Make it 1. Use the brush to apply two coats of paint to a tube; let dry.
Sweet Ideas for a Land o' Candy Birthday Party
DIY Bubble Gum Machines For A Kids Party
Bubble gum machines are perfect things to put on a table for a kids party. You can put a bunch of them with different gumballs and your kids and their friends would be happy. To make one such machine you'll need a terra cotta pot, a wooden ball, a wooden doll pin stand, a tube of E600 glue or hot glue, a round bubble bowl and a can of bright spray paint. Instructions The first thing you need to do is to paint your pot, base, wooden ball and doll pin. When they are dry place the painted pot upside down and attach the round bubble bowl to it using glue.
I love paper Christmas decorations, so when I bumped into The Cheese Thief's woven paper ball tutorial, I had to give it a try. They're curiously addicting. Maybe I should carry some supplies with me to pass the time in long check-out lines, boring holiday parties, or during that weird Choreography number in White Christmas.
Make a garland from woven paper balls
FIESTA mini flags
For english summary, see end of post. Det er ikke alltid så mye som skal til! En liten detalj kan virkelig gjøre en festlig forskjell - som disse anvendelige miniflaggene til å feste på stetter, sugerør og annet (for eksempel mat/cupcake-flagg). MERK: Flaggene er ment for gøy/pynt! Fargen vil flyte utover dersom flaggene blir fuktige, og fargeflekker på fingre (og barnetøy?) kan forekomme.
Create Valentine dishes with edible paint
FIESTA mini bonbon boxes
Why Not Do It Yourself - Great Drink Idea For Kids! - Great Drink Idea For Kids!
Why Not Do It Yourself - Glowing Balloons! What A Great Night Party Idea! - Glowing Balloons! What A Great Night Party Idea!
Patriotic Party Jello Snacks
layered nonalcoholic drinks
The Layered House
features low budgeted lifestyle projects that are fun, QUICK, and easy: Fun For Kids
Pink and Black Wedding - Denise Paul
Juicy Bits: 173: unicorns and rainbows party part 1: the details
Snow Cone Cupcakes: Tutti-Frutti Flavored
Cute As a Fox: Kelloggs Rice Krispies Ice Cream Cones
DIY Mickey Mouse Hat
because every girl deserves a happily ever after: Everything Old is New Again
Shabby Chic First Birthday Party | Design, Dining + Diapers
Santa Gift Shop: Creative doorgift
Lollipop Stand - Martha Stewart Weddings Favors
Surf's Up! Summer Party
Hudson's Robot Party
Amy's Baby Shower
Hudson's Superhero Party
Candy Favor Bar
Under The Sea Adventure | Five To Nine
Vintage Inspired Circus Birthday Party | Five To Nine
Football Party Ideas | Five To Nine
Ramadan Dinner Party | Five To Nine
Somewhere over the rainbow party