Marketing
Les bonnes pratiques de la communication responsable. » Définition Communication responsable Les médias, les entreprises parlent de plus en plus de communication responsable, de communication durable ou verte voire d'éco-communication mais qu'appelle-t-on vraiment communication responsable ?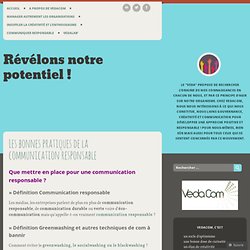 » Définition Greenwashing et autres techniques de com à bannir Comment éviter le greenwashing, le socialwashing ou le blackwashing ? » Pourquoi passer à une communication responsable ? Devant la pression de plus en plus forte des parties prenantes, les entreprises s'engagent dans une démarche de communication responsable. Biomimicry Institute - Home. The Biomimicry 3.8 Institute is a not-for-profit organization that promotes the study and imitation of nature's remarkably efficient designs, bringing together scientists, engineers, architects and innovators of all ages who can use those models to create sustainable technologies.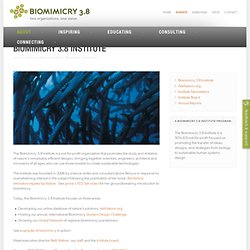 The Institute was founded in 2006 by science writer and consultant Janine Benyus in response to overwhelming interest in the subject following the publication of her book, Biomimicry: Innovation Inspired by Nature. See Janine's TED Talk video for her groundbreaking introduction to biomimicry. Today, the Biomimicry 3.8 Institute focuses on three areas: Developing our online database of nature's solutions, AskNature.org.Hosting our annual, international Biomimicry Student Design Challenge.Growing our Global Network of regional biomimicry practitioners.
---