Charlie Sheen winning
Dans la pure tradition des come-back hollywoodiens (Colin Farrell, Robert Downey Jr), Charlie Sheen défraie la chronique outre-Atlantique, squattant les médias à coups d'interviews surréalistes. Des entretiens bardés de citations déjà cultes ( «On me dit bipolaire ? Je suis bigagnant ! Je gagne par-ci, je gagne par-là.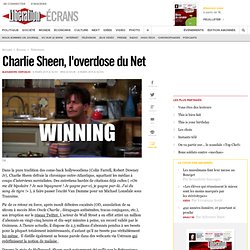 synthèse (mars)
viré de sa série
Charlie Sheen gave a ranty interview today to conservative radio host Alex Jones while he vacationed in the Bahamas. In less than 20 minutes, Sheen claimed he cured his alcoholism "with my mind," referred to his porn star lovers as his "goddesses," called out his imagined opponents—"fools and trolls"— in macho-baroque soliloquies, and insulted Two and a Half Men creator Chuck Lorre in anti-Semitic fashion: "I violently hate Chaim Levine (Chuck Lorre).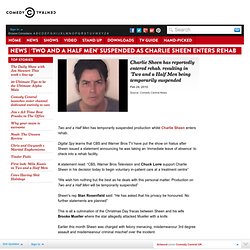 entre en cure
Feb 24, 2010
Itw ABC - original
Winning song
Sheen reaction - recipes
Auto-parodie itw ABC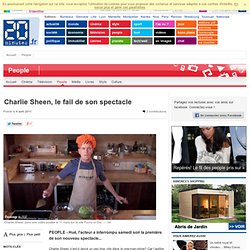 1er show = un bide
Charlie Sheen s'est-il lancé un peu trop vite dans le one-man-show? Car l'apôtre de la «win» vient de connaître un sérieux revers. Alors qu'il présentait la première de son spectacle «La torpille violente de la vérité/La défaite n'est pas une option» - inspiré de ses récents déboires et de son licenciement de la série «Mon oncle Charlie» - l'acteur a été copieusement hué, samedi soir à Detroit.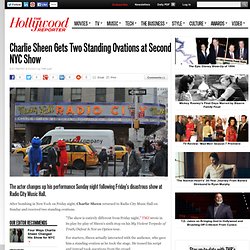 After bombing in New York on Friday night, Charlie Sheen returned to Radio City Music Hall on Sunday and received two standing ovations. "The show is entirely different from Friday night," TMZ wrote in its play-by-play of Sheen's sixth stop on his My Violent Torpedo of Truth/Defeat Is Not an Option tour. For starters, Sheen actually interacted with the audience, who gave him a standing ovation as he took the stage.
2e show : standing ovation
Warner Bros dément son retour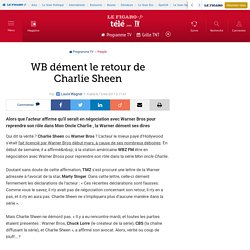 Qui dit la vérité ? Charlie Sheen ou Warner Bros ? L'acteur le mieux payé d'Hollywood s'était fait licencié par Warner Bros début mars, à cause de ses nombreux déboires .