Social Networking in the News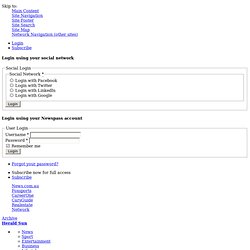 ONE in six school teachers is making "friends" with their students online, despite warnings Facebook can spell professional disaster. A global study has found while educators are increasingly wary of social networking, thousands are still falling into the trap. And the online risks include "cyber baiting", where teachers are taunted so their reaction can be filmed and posted online. The survey of 10,000 children and adults (including 2379 teachers), found Australians were among the world's most savvy internet users. But teachers are still vulnerable to electronic bullying, with one in six surveyed falling victim to - or knowing a victim of - cyber baiting.
Teachers fall into Facebook trap
Facebook Cyberstalking Shocker: Preteen Girls Charged In Issaquah Case
By Elaine Porterfield (SEATTLE) - Two girls aged 11 and 12 were charged on Tuesday with first-degree computer trespassing and cyberstalking for allegedly posting sexually explicit photos and comments on the Facebook page of a 12-year-old classmate. The two girls charged in the case also are accused of using the third girl's computer address to send out instant message solicitations for sex using her name. The children involved are all middle-school classmates and live in the suburban city of Issaquah, east of Seattle. The two accused offenders are believed to be the youngest individuals ever charged with cyberstalking and computer trespassing in King County, said Dan Donohoe, spokesman for the prosecutor's office. One of them told investigators that she and the victim had been friends but had recently had a "falling out," according to charging documents filed in court.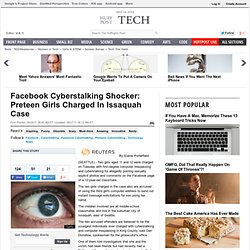 FEBRUARY 3--Mistakenly believing that a middle school classmate had caused the arrest of a friend, a quartet of Florida teenagers exchanged Facebook messages discussing the killing of the suspected "snitch," according to police. The students--three 14-year-olds and a 13-year-old--were arrested yesterday at school and charged with aggravated stalking, a felony. Lee County Sheriff's Office investigators allege that the death threats were spurred by the arrest of Nicholas Gonzalez, 13, who was nabbed for possession of a firearm on the campus of the North Fort Myers Academy for the Arts.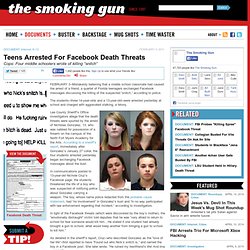 Teens Arrested For Facebook Death Threats
Six middle school girls were arrested Wednesday afternoon after the group allegedly participated in a Facebook event called "Attack a Teacher Day."Carson City Sheriff's Deputy Jessica Rivera, the district's school resource officer, said five of the girls are students at Carson Middle School and one at Eagle Valley.The page came to light Wednesday morning after the invitation went out to 79 students. A parent saw the content, said Rivera. The six girls arrested allegedly posted threats on the page aimed at specific teachers using wording like, "I'm attacking (teacher's name)," and "Down with (teacher's name)."According to the Facebook posting, the …
Six girls arrested in online threats | NevadaAppeal.com