Make: About
The maker movement's potential for education, jobs and innovation is growing. Dale Dougherty (@dalepd), one of the co-founders of O'Reilly Media, was honored at the White House yesterday as a "Champion of Change."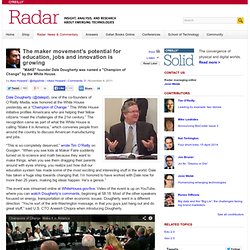 This White House initiative profiles Americans who are helping their fellow citizens "meet the challenges of the 21st century." The recognition came as part of what the White House is calling "Make it in America," which convenes people from around the country to discuss American manufacturing and jobs. "This is so completely deserved," wrote Tim O'Reilly on Google+. The Maker Movement: Young Makers and Why They Matter. Moving the Economy: The Future of the Maker Movement. Youngmakersprogram. Can DIY Movement Fix a Crisis in U.S. Science Education? | PBS NewsHour | June 29, 2011. JEFFREY BROWN: Next, making the stuff of science and making learning about it more fun for kids.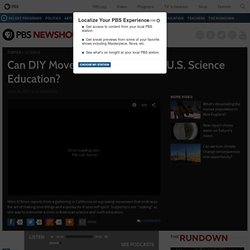 NewsHour science correspondent Miles O'Brien shows us how. MILES O'BRIEN: At first blush, it all seems so typically suburban. But, if you want to keep up these Jones, you best stock up on propane, power tools, and polymers. Moving the Economy: The Future of the Maker Movement. The Maker Movement Creates Jobs. As the unemployment crisis continues month after month, I'm tempted to climb to the roof of my house and yell at the top of my lungs, "The maker movement creates jobs."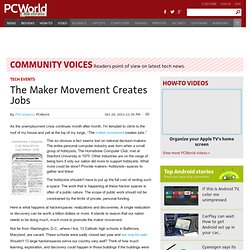 This so obvious a fact seems lost on national decision-makers. The entire personal computer industry was born when a small group of hobbyists, The Homebrew Computer Club, met at Stanford University in 1975. Other industries are on the verge of being born if only our nation did more to support hobbyists. What more could be done? Provide makers--hobbyists--spaces to gather and tinker. Maker Faire and the Growth of Do-It-Yourself. Mark Frauenfelder, founder of BoingBoing.net, is a strong proponent of the DIY movement.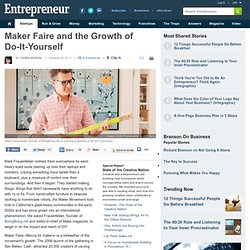 Mark Frauenfelder noticed them everywhere he went: bleary-eyed souls peering up over their laptops and monitors, craving something more tactile than a keyboard, plus a measure of control over their surroundings. And then it began: They started making things, things that didn't necessarily have anything to do with 1s or 0s. From handcrafted furniture to bespoke clothing to homemade robots, the Maker Movement took hold in California's geek-heavy communities in the early 2000s and has since grown into an international phenomenon.
---