Systems Thinking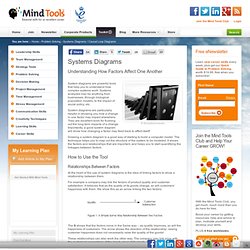 Casual Loop & Systems Diagrams - Problem Solving from MindTools
Understanding How Factors Affect One Another System diagrams are powerful tools that help you to understand how complex systems work. Systems analyzed may be anything from businesses, through biological population models, to the impact of social policy, etc. System diagrams are particularly helpful in showing you how a change in one factor may impact elsewhere.
www.optisim.org/QLENG/UserFiles/File/optisim.html
System Dynamics Methods: A Quick Introduction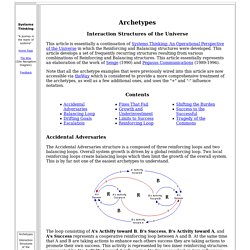 Interaction Structures of the Universe This article is essentially a continuation of Systems Thinking: An Operational Perspective of the Universe in which the Reinforcing and Balancing structures were developed. This article develops a set of frequently recurring structures resulting from various combinations of Reinforcing and Balancing structures. This article essentially represents an elaboration of the work of Senge (1990) and Pegasus Communications (1989-1996). Note that all the archetype examples that were previously wired into this article are now accessible via theWay which is considered to provide a more comprehensive treatment of the archetypes, as well as a few additional ones, and uses the "+" and "-" influence notation.
Archetypes - Interaction Structures of the Universe
isee systems - The World Leader in Systems Thinking Software
Guidelines for Drawing Causal Loop Diagrams 1 2 by Daniel H. Kim The old adage "if the only tool you have is a hammer, every-thing begins to look like a nail" can also apply to language.
Guidelines for Drawing Causal Loop Diagrams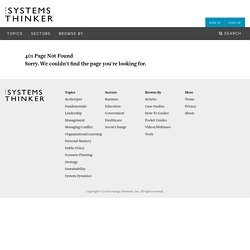 www.simtegra.com - System dynamics modeling causal loop diagram software screenshots
Scenarios for Sustainability: Modeling Methods
This page contains a collection of modeling techniques on different subjects that are available online. In addition to these sources, also see the Quantitative Modeling section on the "Scenario Toolkit" page on this site. Agent-Based Modeling The Agent-Based Modeling FAQ An On-Line Guide for Newcomers to Agent-Based Modeling in the Social Sciences Linear and Non-Linear Programming