RELIGIÓN/et caetera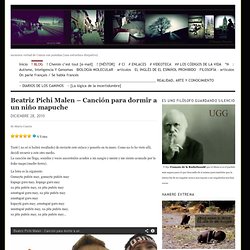 Beatriz Pichi Malen – Canción para dormir a un niño mapuche « El Espíritu del Camino
Traté ( no sé si habrá resultado) de enviarte este enlace y ponerlo en tu muro. Como no lo he visto allí, decidí recurrir a este otro medio. La canción me llega, sonidos y voces ancestrales acuden a mi sangre y mente y me siento acunado por la ñuke mapu (madre tierra). La letra es la siguiente: Gumayta puñén may, gumayta puñén may kupage guru may, kupage guru may xa pita puñén may, xa pita puñén may amutugué guru may, xa pita puñén may amutugué guru may kupaytá guru may, amutugué guru may umutugué puñén may, xa pita puñén may, xa pita puñén may, xa pita puñén may… Y su traducción: Lloran los niños, lloran los niños vinieron los zorros, vinieron los niños tuvieron miedo váyanse zorros, váyanse los niños tuvieron miedo duerma,niño, duerma el zorro ya se vá
Ñuke Mapu - Centro de Documentación Mapuche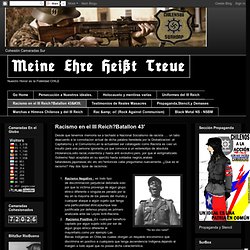 Racismo en el III Reich?Batallon 43'
El Batallón 43 El ataque japonés a Pearl Harbor cambió toda la guerra, tras la entrada en guerra de Japón con Estados Unidos el conflicto se hizo totalmente mundial. Muchos japoneses y otras muchas personas de Asia que aceptaban la ocupación japonesa de su país creyeron que luchar contra Estados Unidos y Gran Bretaña era una política equivocada, el verdadero enemigo al que había que aplastar era al comunismo y la URSS. Por aquella razón muchos asiáticos de diversos paises fueron a Europa para ingresar en el Ejército del Tercer Reich. El gran número de asiáticos provenientes de Asia, o bien de los que ya vivían en Europa se presentaron para combatir en el Ejército alemán,esto hizo que los Altos Mandos del Reich tomaran medidas y los encuadrarán en un mismo batallón, así se creó el OstBattalion-43 o Batallón 43 que fué icorporado a la Wehrmacht y enviado al frente de Rusia. Dos oficiales japoneses del Batallón 43 de la Wehrmacht junto a un camarada alemán.
files.kabbalahmedia.info/files/eng_t_ml-sefer-zohar.pdf
Bienvenida
Kabbalah, Bnei Baruch - Kabbalah Education & Research Institute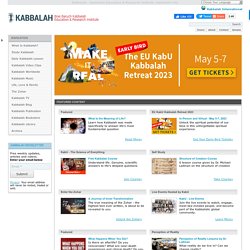 Bnei Baruch's Mission Bnei Baruch is a non-profit organization for teaching and sharing the wisdom of Kabbalah. To maintain its independence and integrity, Bnei Baruch is not supported, funded, or otherwise tied to any government, religious or political entity.
Gregg Braden - The Holographic Nature of The Universe
Consciousness and Quantum Physics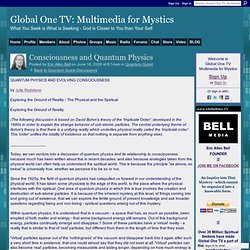 by Julie Redstone Exploring the Ground of Reality - The Physical and the Spiritual Exploring the Ground of Reality (The following discussion is based on David Bohm's theory of the 'Implicate Order', developed in the 1980s in order to explain the strange behavior of sub-atomic particles.
One could not categorise Nyingma School as an ordinary book. It is a translation of teachings and the pure mind retrospective knowledge of the amazing activities of past masters from the eminent Dudjom Rinpoche, one of the greatest Tibetan Buddhist masters of this century and a living Buddha. His incarnation has reappeared. An ordinary person could spend 20+ years digesting this discourse. This particular book, which is a cheaper and more economical printing of a two-book box set, is a chance for anyone to access this superlative material much more easily.
The Nyingma School of Tibetan Buddhism: Its Fundamentals and History: Amazon.es: Dudjom Rinpoche: Libros en idiomas extranjeros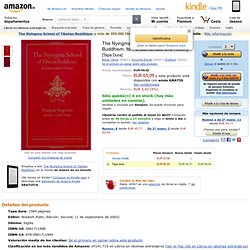 Es una antiquísima tradición aborigen de los nativos de norte, centro y sur de América, actualmente incorporada a nuestra cultura como terapia de sanación.Temazkal es una terapia de purificación, integración y conexión con la vida, con uno mismo y con los otros.También conocido como "sweat lodge" o sauna indígena, representa el nacimiento en el vientre de la madre tierra.Dentro de la tienda y totalmente a oscuras, en comunión con la vida a través de la música, los cánticos, las palabras, el silencio, se experimenta el mágico viaje al interior de uno mismo en alineación con la naturaleza, con nuestro propio cuerpo, con nuestras emociones, nuestra mente y nuestro espíritu.Esta profunda experiencia nos brinda la oportunidad de forjar la voluntad y el espíritu, desplegar y reconocer nuestros sentimientos, aclarar la mente y enfocarla hacia la dirección que buscamos, produciendo un estado de salud, relajación y realización personal y grupal.
Temascal Inipi Cabaña sudor