Libraries
Trends
Reference Tools. YA Lit and social media. Children's Libraries. Readers Advisory. VOTING REPRESENTATIVES | LibraryLinkNJ. Directories of Libraries | Library Development Bureau. Library Staff Profiles :: Fairleigh Dickinson University. Innovators. Rutgers. Pinterest.
Library Literacy. Android - Mobile Computing in Libraries - METRO LibGuides at Metropolitan New York Library Council. WorldCat.org: The World's Largest Library Catalog. Information Seeking. Programs of Study | Eastwick College and the HoHoKus Schools. Healthcare Associate Degrees Eastwick College offers associate degree programs for some of the hottest healthcare careers, including registered nursing (RN) and an health science concentration in health information technology (HIT).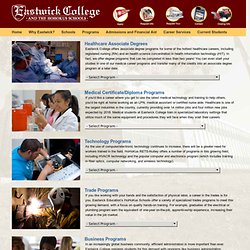 In fact, we offer degree programs that can be completed in less than two years! You can even start your studies in one of our medical career programs and transfer many of the credits into an associate degree program at a later date. Medical Certificate/Diploma Programs. American Library Association. Dewey Decimal System Results. AquaBrowser Library ® - Queens Library.
---