Technology
Search: speech and language
Best Movies for Kids
Christopher Pappas Christopher Pappas is founder of The eLearning Industry's Network. Currently, the eLearning Industry has a network of more than 75,000 professionals involved in the eLearning Industry and runs the following sites: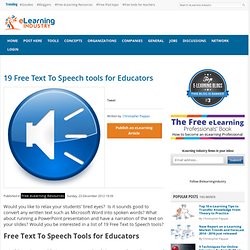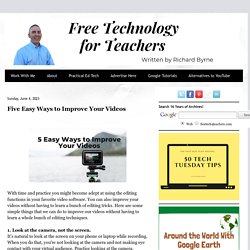 This is a guest post from Samantha Morra of EdTechTeacher.org, an advertiser on Free Technology for Teachers. Many of us using technology in the classroom find ourselves caught between two worlds: Apple and Google. Apple's iPad is a fantastic tool in the classroom which provides students with various opportunities to consume, create, and communicate. Similar to a swiss-army knife, it is only limited by how we choose to use it.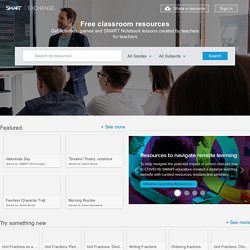 Training, content, and community My cart Sign In | Join for free! | United States <div class="error-status-container"><span class="status-icon error-icon"></span><div class="status-message grey"><h3 class="header3 messagesTitle red">Please enable JavaScript in your browser.
Information graphics which are the visual representation of data known as infogographics are making rounds online these days. It seems like web users are favouring this form of content format over other forms. Their visually attractive display, the bright and shiny colours they include are what make out of them an appealing means of communication.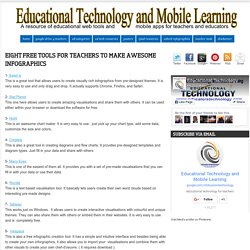 I had the great opportunity to present at and attend the ASHA Healthcare and Business Institute at Green Valley Ranch in Las Vegas this past weekend. It was a great learning experience, and as you know, Vegas is no fun at all. I presented three sessions: Inside and Outside the Box Apps for Pediatrics/Adults (2 sessions) and Tech Up! (a sort of day-to-day incorporation of technology to increase productivity and engagement in private practice settings). All went well, and the audience was terrific!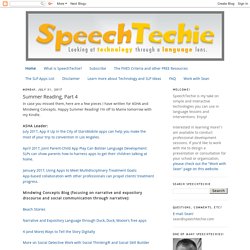 SpeechTechie- Technology, Apps and Lessons for SLPs and Teachers who like Words
MIT Understanding Lasers and Fiberoptics full course by MIT Lasers are essential to an incredibly large number of applications.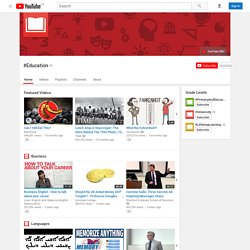 Free Educational Videos for K-12 Students
The Americans are No. 1 for next year's World Cup—when it comes to ticket sales. U.S. purchasers already have bought 93,300 tickets for next year's tournament in South Africa, the head of the local organizing committee said Friday. Danny Jordaan gave a presentation on preparations Friday at the South African Consulate General in New York, and said the 32-nation tournament already is proving doubters wrong. This will be the first time the World Cup or the Olympics will be held in Africa. "The argument has essentially been twofold," Jordaan said at the start of his 40-minute presentation.
The Learning Company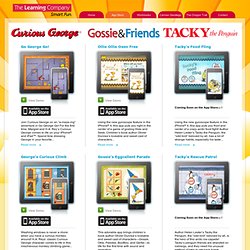 Using the new gyroscope feature in the iPhone® 4, this app puts you front and center of a crazy arctic food fight! Author Helen Lester's Tacky the Penguin, the "odd bird" beloved by all, has a lot of strange habits, especially his taste in food! Feed the hungry penguin customers by flinging fish into their beaks—matching the specific shape and color fish requested. While the other penguins ask for fish, Tacky, of course, asks for the strangest things, like shrimp cotton candy and sushi cereal! Find all the penguins by rotating the iPhone® to see a 180°view of the Café, and tap the food launcher to fling away! (Older iPhone® devices and the iPad™ utilize the touch and swipe feature).
45 Interesting Ways to use a Flip Video in the classroom