Ipads in Education
IT in Education - Home
Ringwood North Primary School Ringwood North Primary School began the iPads for Learning Trial in Semester Two, 2010 with 136 Years 4 and 5 students. As a leader in the integration of technology into learning, Ringwood North continues to innovate and share its journey with a worldwide audience. Ringwood North Primary School is located in the outer eastern suburbs of Melbourne.
Some of the apps we use in school : Kenninghall Community Primary School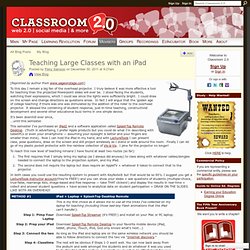 [ Reprinted by author from www.sageonstage.com ] To this day I remain a big fan of the overhead projector. I truly believe it was more effective a tool for teaching than the projected Powerpoint slides will ever be. I stood facing the students, watching their expressions, which I could see since the lights were sufficiently bright. I could draw on the screen and change directions as questions arose.
Teaching Large Classes with an iPad