Mobile_Devices
Navigon 2 6 1 for Android Maps Q3 - Free Download from rapidshare - Filestube.com. Download Navigon 2.5.1 for Android | Software I Love. Make money Download Navigon 2.5.1 for Android .
Download Navigon 2.5.1 for Android From 4shared Software, Rapidshare Software. Latest Navigon 2.5.1 for Android provided only for review and evaluation. If you like Navigon 2.5.1 for Android buy the original at your nearest record store. Download Navigon 2.5.1 for Android Category Software : Android Below : News - www.SamFirmware.com. How to check Battery usage & history in Samsung Galaxy S? | Samsung Mobile Phones. One of the main concerns for anyone in a mobile phone would be the battery life and its usage.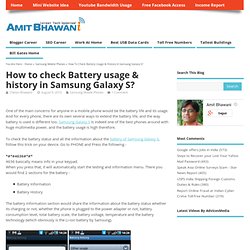 And for every phone, there are its own several ways to extend the battery life, and the way battery is used is different too. Samsung Galaxy S is indeed one of the best phones around with huge multimedia power, and the battery usage is high therefore. To check the battery status and all the information about the battery of Samsung Galaxy S, follow this trick on your device. Go to PHONE and Press the following - How to Increase Samsung Galaxy S Battery life | Samsung Mobile Phones. Samsung Galaxy S is power-packed with AMOLED screen and multiple applications, the camera and the huge interface surely speaks of eating up a lot of battery when you want to get the fullest use out of it.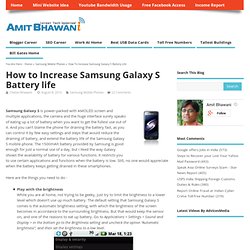 And you can't blame the phone for draining the battery fast, as you can control it by few easy settings and steps that would reduce the draining of battery, and extend the battery life of the Samsung Galaxy S mobile phone. The 1500mAh battery provided by Samsung is good enough for just a normal use of a day, but I liked the way Galaxy shows the availability of battery for various functions. It restricts you to use certain applications and functions when the battery is low. [APP][OUTDATED]One Click Lag Fix APK. [APP][OUTDATED]One Click Lag Fix APK This thread is now deprecated in favor of the APK2 thread.APK2 thread can be found here: This is an APK (Normal Android App) that will install an EXT2 lag fix for you.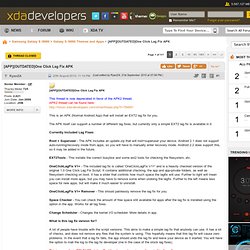 The APK itself can support a number of different lag fixes, but currently only a simple EXT2 lag fix is available in it. Currently Included Lag Fixes: [APP] One Click Lag Fix APK - 2.0 (UNSUPPORTED development halted) [APP] One Click Lag Fix APK - 2.0 (UNSUPPORTED development halted) OneClickLagFixV2PLUS inside the app is currently in RELEASE status.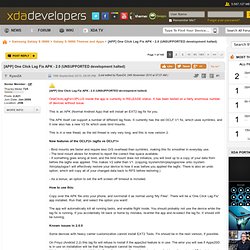 It has been tested on a fairly enormous number of devices without issue. This is an APK (Normal Android App) that will install an EXT2 lag fix for you. The APK itself can support a number of different lag fixes. [UTIL] One Click Lag Fix. [UTIL] One Click Lag Fix This software is currently in BETA status!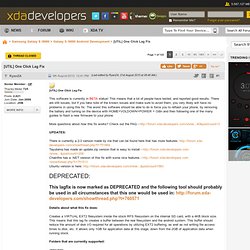 This means that a lot of people have tested, and reported good results. There are still issues, but if you take note of the known issues and make sure to avoid them, you very likely will have no problems in using this fix. How To: Root And Unroot Samsung Galaxy S i9000 With A Single Click. Finally there is some great news for Samsung Galaxy S i900 owners looking for an easy and painless root method.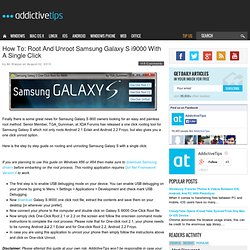 Senior Member, TGA_Gunnman, at XDA Forums has released a one click rooting tool for Samsung Galaxy S which not only roots Android 2.1 Eclair and Android 2.2 Froyo, but also gives you a one click unroot option. Here is the step by step guide on rooting and unrooting Samsung Galaxy S with a single click: [Drivers] MS Windows x86 and x64 USB Drivers for Samsung Galaxy S. [PROGRAM] One Click Root/UnRoot I9000 (Eclair and Froyo) Mac and PC.
[APP] One Click Root/UnRoot I9000 (Eclair and Froyo) Mac and PC Team, This One-Click Root process will copy over the rooted-update.zip or unroot-update.zip file then reboot your phone.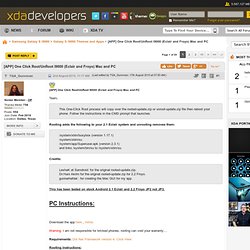 Follow the instructions in the CMD prompt that launches. Rooting adds the following to your 2.1 Eclair system and unrooting removes them: /system/xbin/busybox (version 1.17.1) /system/xbin/su /system/app/Superuser.apk (version 2.3.1) and links /system/bin/su to /system/xbin/su. How to root unroot Samsung Galaxy S i9000 easiest way one click Tool. Rooting your Android system gives you access to core files and control over full system.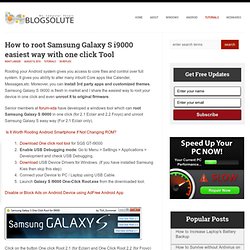 It gives you ability to alter many inbuilt Core apps like Calender, Messages,etc. Moreover, you can install 3rd party apps and customized themes. Samsung Galaxy S i9000 is fresh in market and I share the easiest way to root your device in one click and even unroot it to original firmware. Senior members at forum-xda have developed a windows tool which can root Samsung Galaxy S i9000 in one click (for 2.1 Eclair and 2.2 Froyo) and unroot Samsung Galaxy S easy way (For 2.1 Eclair only).
Root Samsung Galaxy S i9000 Android 2.1 and 2.2 Froyo | Tutorial. Thanks to the people at the XDA Forum, rooting Samsung Galaxy S ( and Captivate / Vibrant ) is now easier than ever.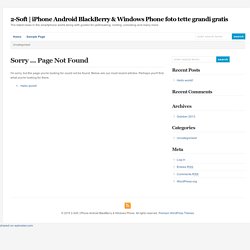 All you need is to install the One-Click tool and follow the easy steps below for rooting your Samsung Galaxy Device in a matter of minutes. The One-Click Root tool also allows users to remove rooting from their devices. The method has been tested both with Android 2.1 and 2.2 Froyo but there are still risks involved. NANDROID_Backup - android-roms - How To: Perform a NANDROID Backup. - Project Hosting on Google Code. At this point you should backup your phone via NANDROID 1 Turn your phone off. 2 Hold Home, press Power button to boot into Recovery Mode 3 Press ALT+B to start the backup. 4 Once the backup has completed press Home + Back Next your phone will reboot and load the OS, at this point you should copy the files your just backed up to your PC incase you need to recover your phone.
[21.12.2010][CF-Root v1.3] JPH/K/6/M/A/O/U/X/Y - su+busybox+2e, CWM compat! [30.03.2012][CF-Root 4.4] J-P/S/Q-*,JV-1KBHIOPQRSTAUV,JVU,JW4 - su+bb+2e/CWM-rfs+ext4 This rooted kernel is for the "rooting beginners" and those who want to keep as close to stock as possible. CF-Root takes the kernel from an original Samsung firmware, and just adds root, busybox, and (unprotected recovery and CWM compatibility) OR (CWM3) [HOWTO] [REF] (un)root your SGS I9000 the easy way (keep all your data) (Eclair 2.1) I will stick this for now, but will review it's sticky status as comments come in regarding this guide. EDIT: Note, I make no claim to the correctness of this guide. I expect senior members to verify and comment on it's correctness, and/or propose additions/changes to it's content. BLOG - G+(Chainfire) - G+(Personal) - TWITTER - IRC - DONATE A proper quote includes only the relevant paragraphs, and a proper post never ends with the word "why" AndroidHTC G1, Hero, OneSamsung i5800, i9000*2, P1000*2, P7100, i9100*2, N7000, P6800, i9300, N7100, i9505, N9005Sony T LT30p, Z C6603Nexus Galaxy*2, N7, N10, N7-2013.
Samsung Galaxy S - S. HomePage : Titanium Backup - Wiki. Titanium Backup User's Guide This is the Titanium Backup manual. Titanium Backup Technical FAQ. [Complete Guide] How To Fully Back Up And Restore Your Android Phone Using Nandroid Backup | Android News, Reviews, Apps, Games, Phones, Tablets, Tips, Mods, Videos, Tutorials - Android Police. Introduction In this tutorial, I will guide you through the easiest and most reliable way to fully and 100% back up and restore your Android phone.
By fully back up, I don't mean backing up just your address book or your emails, or your dog. I mean EVERYTHING that resides on your phone with the exception of the SD card - what we will create is essentially a full image of your phone's current state that you can restore to at any time as if nothing happened. This image will be written to your SD card which you are then free to copy around and back up on your computer. In fact, the backup described here is very similar to imaging your computer hard drive before you swap drives - the principle is the same.
How to Upgrade Galaxy S to Android 2.2. Galaxy Root | Galaxy Root. Samsung Galaxy S Series - XDA-Developers. [WARNING!] Do Not flash Any ROM until you can get the 3 buttons DOWNLOAD MODE working. [ROM LIST] Latest Galaxy S ROMs & Developers [UPDATED 30.01.2011] Galaxy S Display draining ~70% of total battery in 6 hour span? (w/o being on) [GUIDE] Step by Step ROM Firmware Upgrade & Migration to Froyo 2.2 [JL2] Bell I9000M. [WINDOWS APP] Kies Registry Patcher 1.7.0.0, patch registry on latest Kies. Samsung Galaxy S I9000. Samsung Galaxy S. Επικοινωνία - Υποστήριξη - Samsung Mobile Greece. Λογισμικό & Εγχειρίδια - Υποστήριξη - Samsung Mobile Greece. MobilePlanet. Pocketables.
---